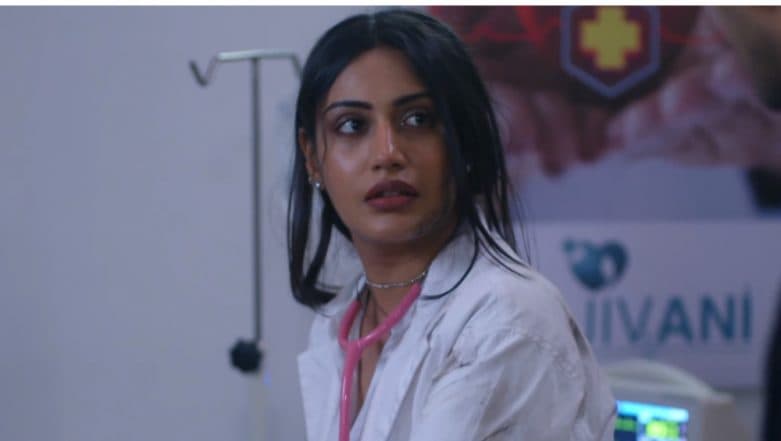 In yesterday's episode of Sanjivani 2, we saw Sid undergoes an emotional outburst after recalling his childhood memories. Later, he has a conversation with his mother while Asha is worried about her future. Tonight's episode starts with Ishani (Surbhi Chandna) apologising to Sid (Namit Khanna) and telling him that she will come later. Sid says he should say sorry, as he knows how life passes by without a dad. She says this case reminded him of it all and those memories hurt a heart. Sid says he wished he could have some medicine to forget sad memories. Ishani tells Sid that when one feels pain, the mind starts neglecting it. Meanwhile, a Nurse calls Sid for Riya. Riya's mum says she had put hot tea near her. Sid asks Riya not to worry. Sanjivani 2 September 4, 2019 Written Update Full Episode: After Dr Shashank's Talk, Sid Goes and Apologizes to Riya's Mother
Ishani says we can check the burns. Sid asks Riya does she feel anything. Ishani moves the pen over the leg and asks do you feel any pain. Riya signs no. They worry. Riya's mum asks what happened. Riya asks if she can have ice-cream. Sid says sure, the nurse will get it for you. Sid asks Riya's mother to come out. He says Riya has lost all sensation in her lower body. Riya's mother is shocked to know. Ishani says its the possibility of Refsum disease and says that we have to meet Riya's dad.
Sid assured Riya's mother that if they waste time, it will be bad, and tells her to  trust him. Sid promises that says he will not let that man's shadow fall on Riya, and says that he will go and take his samples, he promises and asks his name. Riya's mum tells Sid his name is Rakesh Desai, MD of Desai company. Sanjivani 2: Mohnish Bahl's Wife Aarti Bahl Roped In to Play Namit Khanna's Mother on the Show 
Sid and Ishani go and see Rakesh's name in the board of directors list. She says we shall talk to him and explain to him that none will know about it. Sid says he won't understand and will not co-operate with us and suggests that they have to break rules and find new ways. But Ishani takes Rakesh's appointment and goes to his office. Sid comes there as a watchman. He greets her. She gets shocked seeing him. Ishani goes to meet Rakesh and asks about his ex-employee Mukta Das, but Rakesh denies knowing anyone by that name.
Ishani says that his name will be kept secret and that he just has to give his blood for the DNA test. Rakesh gets enraged and calls the security guard to throw her out, Sid comes there and punches him. Rakesh faints. Sid stops Ishani and locks her and says you don't know this. She says you are doing wrong. Sid ties up Rakesh. Rakesh gains consciousness. Sid says wait, and he will take a blood sample first and then do the eye test. Ishani asks him if he is done. Sid says two mins more.
Sid tells Ishani that he has symptoms of the Refsum disease, which can be confirmed after tests. He opens the door and asks Ishani to come with him, else he will break the blood sample bottle. Ishani says sorry to Mr Desai and tries to free him. She says it is not her mistake. Sid takes Ishani out and tells her to sit on his bike. Ishani tells him to give the helmet, Sid tells her that he is a safe driver. They argue with each other. He asks her not to lecture and sit. Rakesh shouts catch them.
Bach at Sanjivani, Shashank (Mohnish Behl) comes to meet Vardhan (Rohit Roy). Vardaan says you could have called me. Shashank says your luxury ward plan, he agrees but he also wants something, one general ward will be changed to the luxury ward, some profits will be used for the general ward. They bargain for the partnership. Shashank says 15%. Vardaan says done. Rakesh calls Vardaan and asks him to fire Sid.
In the next episode, Vardhan punishes Sid. Sid says he won't be quiet now. Vardhan fires Ishani too.