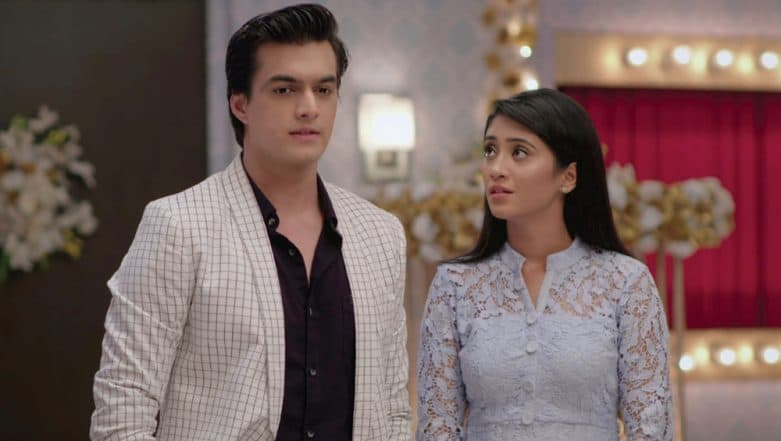 Today's episode of Yeh Rishta Kya Kehlata Hai starts with Naira (Shivangi Joshi) telling Naksh that she had gone out and that she did not say anything to him as she loves ice-cream.  Naksh feels relaxed after hearing this and says he was so tensed and tells her whatever she wants she should tell him and he will bring it. Naksh tells Naira to come in and see who has come to meet her. Naira sees them and smiles, Devyani ask did she recognized them. Rajshree and Varsha give their introduction, Naira just says hello, Rajshree starts crying but Naira says not to cry and that everything will be fine. Naira thinks that she will tell about Siddharth to Naksh very soon.
Naira in her room thinks what Kartik will think about her, as recently they have met and she talks so much and is tensed. There Kartik is happy and thinks Naira loves Siddharth and it is so complex situation and what he will do now and why is he scared she loves him only whether it is Siddharth or Kartik. Kartik flashbacks what Naira has told about not telling lies to her.
There  Rishab is telling his father that this is not done and that he should have the courage to come and tell everybody the truth or stay away. Rishab says that he thinks Kartik is trapping Naira by not telling her the truth. Rishab says that he should talk about this to Naksh. Rishab dad's say that he should talk to Naira first, Rishab agrees and says he will talk to her first.
Rajshree feels bad as Naira could not recognize her and remembers her, just then Naira asks can she come in. Rajshree feels happy to see her. Naira says what to talk to her as she is not able to memorize anything. Naira says she is not able to sleep, Rajshree says that she will make her sleep and tells her to sleep in her lap and sing a song….akhon mein lekhar methe sapne lekhar . Naira sleeps listening to it. Rajshree feels happy and prays that Naira remembers her soon.
Kartik is not able to sleep thinking about Naira and says it does not matter she loves Siddharth or him, both are same and says now he knows what to do. "Kartik comes to meet Naira from the window ( o more saiyaan track is played in the background) Kartik comes in and says he has come to give the answer that he also loves her. Kartik says that she is very important in his life and he loves her" Suddenly Naira falls down from the bed and realize that she was dreaming this all and thinks when will it happen for real.
Rajshree is telling Naksh that Naira was not able to sleep. Naksh tells she sleeps nicely as he goes and checks her. There Naira in her sleep is saying that she loves Siddharth, just then Rajshree and Naksh come in the room and hear her saying that she loves Kartik. Naksh feels upset listening to this. Rajshree says she still loves Kartik after all that and that she has not forgotten him till now. Naksh tells Naira to get up, Naira gets up and says she will get fresh and come back.
In the bathroom, Naira thinks about Kartik and says is he upset because of her as she told about her feeling to her. There Kuhu and Misti come to meet Devyani as they want her signature. As they enter the house Misti feels low as she remembers all that happened with her, Misti dash with Devyani on the door. Devyani is happy to see Misti but Misti ignore her and goes in with Kuhu to meet the others.
 In the precap, Kartik comes to meet Naira but Rishab comes in between and tells that he wants to tell the truth about Kartik to her.