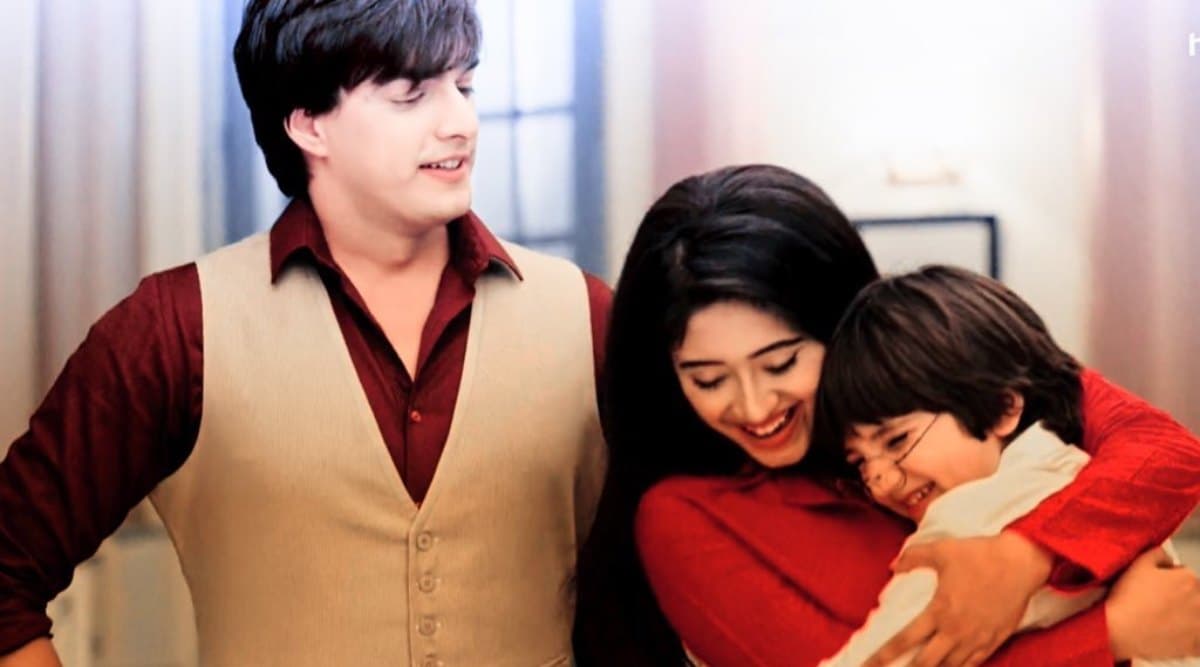 In yesterday's episode of Yeh Rishta Kya Kehlata Hai, Vedika is shocked to see the stranger and feels awkward standing before her past. She wonders what does he wants from her now. Unaware about Vedika's past the Goenkas invite the stranger home and take care of him. In tonight's episode, we see Kartik (Mohsin Khan) is not able to control his feelings for Naira (Shivangi Joshi) and feels extremely restless. Vedika goes to meet Akshat and asks him why has he called her. Vedika pleads Akshat to leave her alone and not harm her family. Akshat says if she does not support him, he will reveal her true identity. Naira is shocked to see Vedika and Akshat together and asks if they need anything. Vedika says she wanted to drink water and was asking Akshat if he wanted something. Yeh Rishta Kya Kehlata Hai November 21, 2019 Written Update Full Episode: Kartik Is Relieved to See Naira Safe, While Vedika's Past Comes to Haunt Her
Next morning at the breakfast table, Suhasini asks Suwarna if the stranger had his breakfast. Suwarna confirms that breakfast was sent to his room. Vedika is tensed as she cannot tell anyone about her problems. Vansh comes and wishes everyone a good morning. Kairav calls him to have Kachori with him but he refuses and tells him he does not want to eat it especially today. Manish asks what is so special? Vansh is upset as no one remembers his birthday. Vansh goes with Gayu for his football match. Kairav is happy as they were successful in fooling Vansh. Kairav says now it will be great fun in giving Vansh his birthday surprise. Kartik asks what Kairav has in mind for the big birthday surprise as they will have to prepare for it before Vansh's return.
Vansh is upset as no one in the family remembers his birthday and gets emotional. Gayu tells him that after Kairav has come everyone has forgotten Vansh. Samar makes her understand that all love Vansh the same way they care for Kairav. Kairav gets jealous as all are praising Vansh. Kartik tells that he loves both the same and hugs him. Kairav tells all that he has planned a Halloween party for Vansh's birthday. At first, all the elders disagree but Kairav makes them agree for the Halloween party. Yeh Rishta Kya Kehlata Hai November 19, 2019 Written Update Full Episode: Kartik Fails To Get Bail While Naira Tends To An Ill Kairav
Akshat is happy with the Halloween party idea as he can execute his own plan. He calls friends to arrange for his costumes so that nobody recognizes them. As Vedika goes to her room, Akshat pulls her into his room. Kartik follows Naira wherever she goes as he feels like being closer to her. Akshat tells Vedika that he plans to kidnap Kairav. Vedika gets furious and tells him that he should not do anything like that. Akshat tells that she should not forget that she was engaged to him before getting married to Kartik and if she does not support him he will reveal that to the Goenkas. Just then Naira comes into the room with a bowl of soup for Akshat. Vedika hides behind the door. Naira asks if he is fine now and tells him to have the soup. Akshat tells that he will leave in the evening as he is fine now. Kartik invites him to attend Vansh's birthday party. Kartik and Naira decorate the house for Vansh's birthday party. All get dressed and come to the party. Naira and Kartik make fun of each other's costumes.
In the next episode, all enjoy Vansh birthday's party. Naira gets worried when she does not find Kairav in the house.