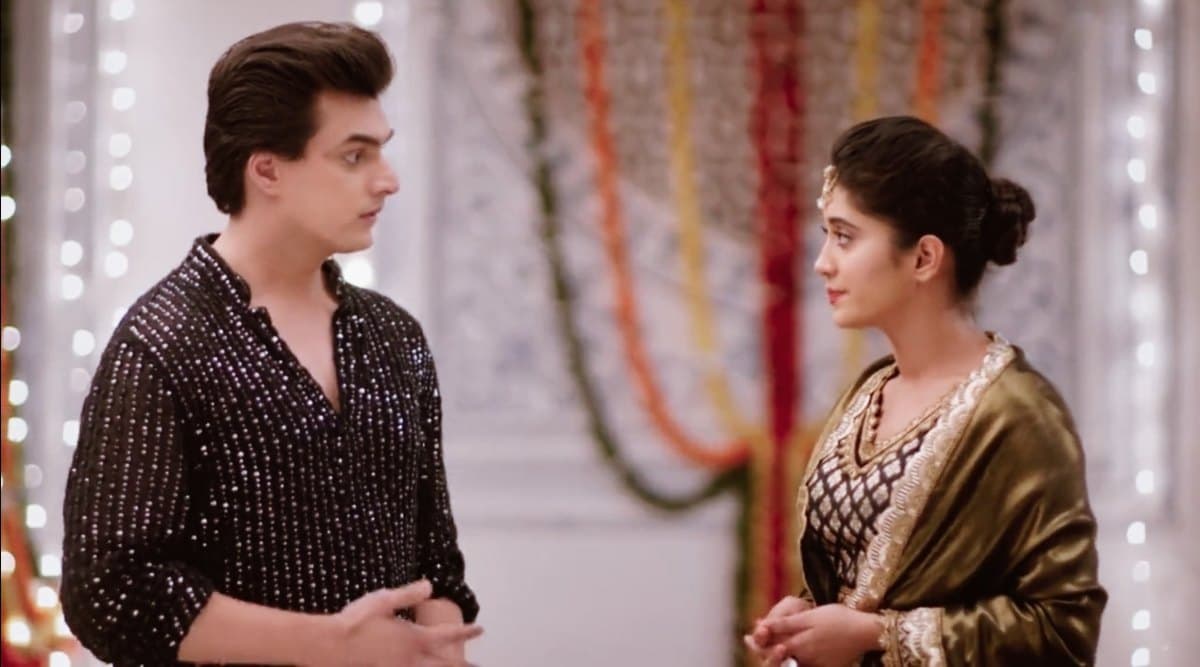 In yesterday's episode of Yeh Rishta Kya Kehlata Hai, we saw the Singhanias inviting the Goenkas over for Dussehra celebrations while Vedika is tensed. During the puja preparations, Naira and Kartik reach an agreement. Tonight's episode starts with Kartik (Mohsin Khan) and Naira (Shivangi Joshi) telling Vansh and Kairav to join them for Raavan Dahan. But the kids say they have some work and leave. Kartik feels something is wrong as Kairav is behaving weird, Naira says maybe they are trying to fool him. On the other hand, back at the Goenka mansion, Vedika thinks that today is the festival day but she feels very lonely and says she has to go and packs her bags, thinking that this is the right decision and maybe everyone will be happy after that. Yeh Rishta Kya Kehlata Hai October 23, 2019 Written Update Full Episode: Naira and Kartik's Reunion Under One Roof Makes Vedika Nervous
Meanwhile, in the Singhania house, everyone is waiting for Vedika to start the program. Suhasini says they have to start as the auspicious time will go then. When Kairav comes, Kartik kisses him but he ignores him and goes. The family starts the preparation for Raavan Dahan, Devyani tells about her past and how they used to celebrate Dusshera and says we should burn all our sorrows and hatred in it and continue living happily.
Everyone prays together for the well being of the family. Later, Kairav thinks if he got hurt then Naira will not force her to go to Goa and goes behind the idol of Raavan. Meanwhile, Vansh lights the fire and throws the arrow on Raavan's idol. By then, Naira sees Kairav's leg behind the idol, and she and Kartik run towards the idol to save their kid. Later Kartik berates Kairav and asks him why did he do this. Kairav hides behind Naira as he is scared and cries. Kartik tells Naira to make him understand to not do such things again. Yeh Rishta Kya Kehlata Hai October 21, 2019 Written Update Full Episode: Kartik Feels Guilty About His Actions After Hearing Naira's Confession
Kairav runs away and Naira goes behind him into the house. Manish and everyone asks Kartik to calm down. Kartik says he is scared for Kairav as he does not want to loose his son and gets emotional. Later, Naira asks Kairav why is he behaving like this and he tells that Kartik always shout at him and he always does that. Naira makes him understand that Kartik is concerned for him and loves him and that is why he shouts at him.
Suwarna tells Naira not to pressurize him now as he is a small kid and tells him that he will understand everything himself later on. On the other hand, Kartik comes to meet Kairav. He tells Naira that Kairav is angry with him as he shouted at him, Naira says by morning Kairav will forget everything and become his good friend. Later, Naira says all the kids are fond of their fathers and they do not care much about their mothers. Naira tells Kartik to go home and prepare for the birthday surprise.
In the next eposode, Kairav thinks that he will not celebrate his birthday with Kartik and tears his photos.