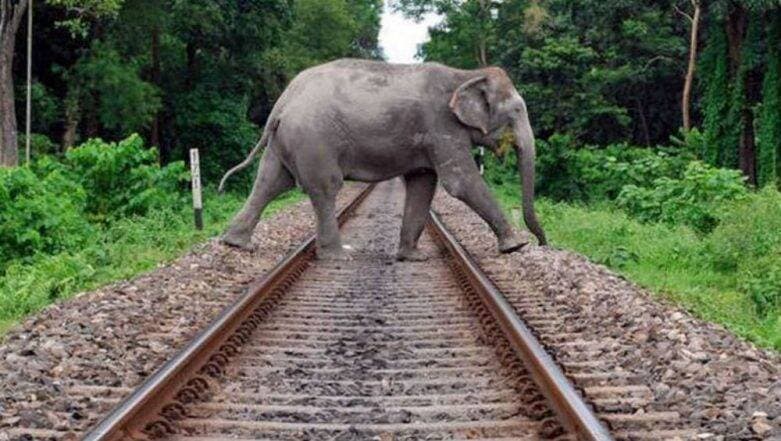 In the recent past, there is an increase in animals including cattle, leopards, lions and elephants being killed on railway tracks in North East. While most of the times it is the speeding train which takes their life, other times it is live overhead wires. According to the Indian Railways, more than 32,000 animals have been killed on railway tracks in the past three years. Additionally, until June 20, 2019, around 3,479 animals were killed after being run over by trains. As the number continues to rise, the Indian Railways has introduced some steps to reduce elephant casualty in the North East. Elephants on Railway Tracks: Seismic Sensors Being Put on Rail Lines to Warn Loco-Pilots; Here's How They Work.
Indian Railways operate three pairs of passenger trains service via Bogibeel Bridge where the movement of wild elephants is observed. Southern Bank of Brahmaputra, particularly wild elephants also witnesses the same movement of animals. Hence, the Indian Railways in consultation with the Forest Department following the advice of National Green Tribunal have set up elephant corridors. They have created Working Time Table and imposed speed restrictions for trains (both passenger and freight)
Steps by Indian Railways to reduce Elephant Casualty in North East
1. Clearing vegetation from the sides of railway tracks on a regular basis.
2. Signage Boards at all elephant corridors to warn Loco Pilots.
3. Sensitising programs for Loco Pilots/Assistant Loco Pilots and Guards with the help of the forest department.
4. Keeping the railway track clean from food waste which attracts elephants.
5. The imposition of six permanent speed restrictions on the Kamakhya–Goalpara Town section of Rangiya Division and 14-speed restriction on the Guwahati-Lumding-Furkating section and Dharamanagar-Agartala section of Lumding Division
6. The imposition of temporary speed restrictions on the receipt of information of elephant movement from Forest Department at places apart from the identified elephant corridors. Currently, there are six temporary speed restrictions from Jugijan to Lumding.
7. Installation of Honey Bee Sound Systems at the manned level crossing in North East Frontier Railway System, some of which are in the South bank i.e. on the Kamakhya-Goalpara section. This acts as a repellant for an elephant to keep away from the railway tracks.
According to wildlife experts, India has the highest number of train accidents involving elephants in the world. The reasons for elephants straying into a residential area is due to increasing human population, habitat destruction, increased frequency of fast trains and neglect on part of authorities to create animal-friendly routes. This information was provided by the Minister of Railways and Commerce & Industry, Piyush Goyal in a written reply to a question asked in Lok Sabha onThursday.