Ahmedabad, February 7: GoAir's Ahmedabad-Delhi flight on Wednesday morning suffered a bird hit. There were about 166 passengers on board who had a close shave following a bird-strike. The incident took place when the Delhi-bound GoAir flight number 720 was climbing after take-off from Sardar Vallabhbhai Patel International Airport in Ahmedabad, Gujarat. As per reports, all the 166 passengers are safe and the flight. As a precautionary measure, the flight was cancelled.
A bird-strike is an aviation terminology, which basically means a collision between a bird and an aircraft, which could happen during take-off or landing or mid-air. It must be noted that a bird hit is considered to be a threat to flight safety.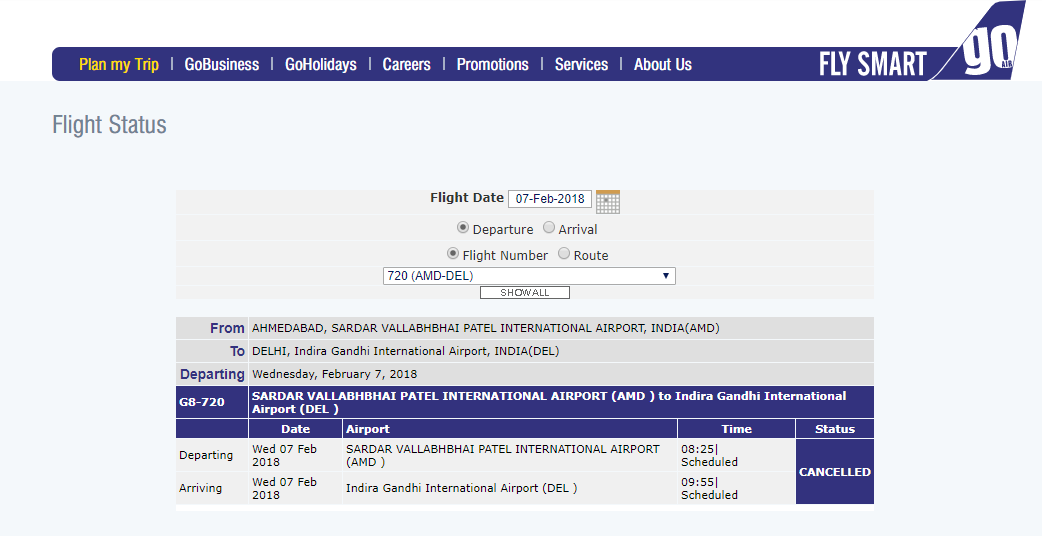 In November 2017, a Patna-bound GoAir flight with 174 passengers onboard suffered a bird hit and returned to New Delhi. The incident took place as the flight took off from the Indira Gandhi International (IGI) airport. According to a statement by GoAir, the Airbus A320neo plane suffered the bird hit when it was on the climb, forcing the pilot to discontinue the journey and return to New Delhi for an inspection of the plane.
In January 2017, around 160 passengers, including Manipur Chief Minister Nongthombam Biren, had a close shave when their Air India plane suffered a bird hit while landing at the airport in Guwahati. The Delhi-Guwahati-Imphal flight was grounded on January 19 and passengers travelling to Imphal were left stranded. An Air India spokesperson confirmed the incident and said the flight carrying 160 passengers was grounded for inspection by a team of engineers.
(The above story first appeared on LatestLY on Feb 07, 2018 12:27 PM IST. For more news and updates on politics, world, sports, entertainment and lifestyle, log on to our website latestly.com).