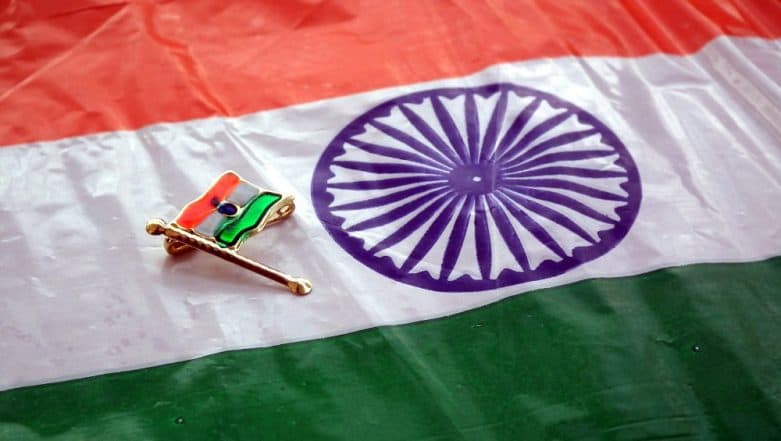 India is preparing for the upcoming Independence Day in full force. Schools, colleges, offices, housing societies and various institutions will celebrate the national festival with great pomp and fervour. India's national flag will fly high at every nook and corner of the country on August 15. People put the tricolour on their bikes and cars, in their homes and proudly pin it on their clothes. However, many-a-times, these flags are made of plastic and end up in the trash the next day. While plastic is a part of our day-to-day life, it is one of the main contributors to pollution. And as we celebrate Indian Independence Day 2019, let's take a pledge to not use plastic tricoloured flags. Independence Day 2019: How to Dispose Off The Indian National Flag Respectfully According to Flag Code of India.
Last year, the government had urged its citizens to not use the national flag made of plastic. All states and Union territories were asked to strictly follow the flag code. The Ministry of Home Affairs (MHA) had said that it is been brought to their notice that during such important events, the national flag made of plastic is often used. While paper flags should be sold, plastic flags which are cheaper makes its way to the market. . Independence Day 2019 Flag Hoisting Rules of India: How to Unfurl the Tricolour or the Tiranga on August 15.
The advisory said that on important national, cultural and sports events, flags made of paper only are to be used by the public in terms of the provisions of the 'Flag Code of India, 2002'. Paper flags are not to be discarded or thrown on the ground after the event. There is a procedure through which paper flags should be disposed of. Evolution of the Indian National Flag Tiranga From 1906 to 1947 (Watch Video)
Addressing the issue, Bajaj Avengers had released an ad saying #NoPlasticPatriotism last year which showed why we should not use plastic flags. The eye-opener came with a caption which read: 'To care for your country is also a way to respect it'.
Watch The Ad Here:
Plastic pollution has become one of the most pressing environmental issues as its disposal is almost impossible. Of which single-use plastic is one of the major problem causing agent. One million plastic drinking bottles are purchased every minute and five trillion single-use plastic bags are used worldwide every year. In total, half of all plastic produced is designed to be used only once. And as we celebrate the freedom we received, as a nation, we cannot let our celebrations add for more garbage in the country.
The Advisory states that the National Flag represents the hopes and aspirations of the people of our country which occupy a position of honour. But, lack of awareness amongst people in relation to the practices and conventions to the display of the National Flag, makes us irresponsible and uninformed citizens.