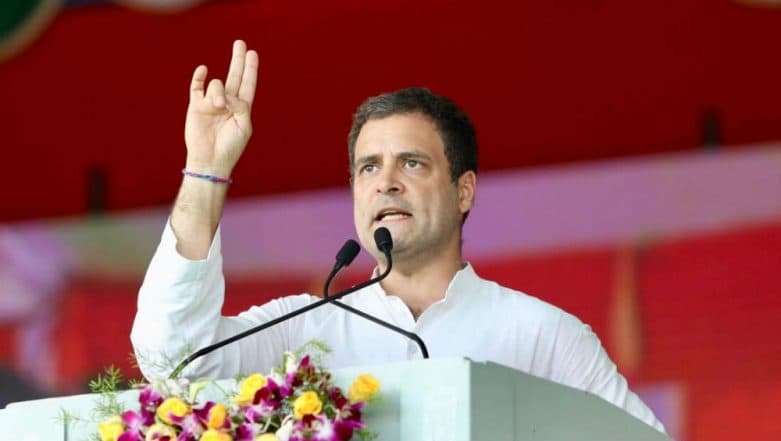 Amethi, January 24: A day after announcing the major shift in party by declaring sister Priyanka Gandhi as All India Congress Committee in-charge for eastern Uttar Pradesh, Rahul Gandhi on Thursday attacked Prime Minister Narendra Modi for failing to fulfill the promise of farm loan waiver and reiterated his old slogan 'Gali Gali Me Shor Hai, Chowkidaar Hi Chor Hai'. He also called PM Modi a liar and said, 'I, Unlike Narendra Modi, Don't Lie'.
Accusing the Premier of fooling the farmers of the nation, the Congress president stated, while addressing the media "The farmers have given everything to the country. But Modi has refused to waive their loans. On the other hand, he has waived loans worth Rs 3.5 lakh crore of 15 top industrialists. See how the chowkidar has become a chor in four-and-a-half years." Adding more, he reiterated the slogan – Gali Gali Me Shor Hai, Chowkidaar Hi Chor Hai (There is a shout everywhere, the guard is the thief). Priyanka Gandhi's Entry in Active Politics: 'BJP is Scared', Says Congress President Rahul Gandhi in Amethi. 
Along with this, Gandhi also claimed that Congress government fulfils the promise and is not like Narendra Modi-led BJP government. Taking pot shot at BJP-led government, the Congress president said, "We had promised loan waivers, and we implemented that. I, unlike Narendra Modi, don't lie. I want to promise to you that the food park which was halted by Modi Ji, will be built here in Amethi. 101 per cent."
Taking a dig at Acche Din – a slogan coined by PM Modi – Gandhi stated that, "I want to ask the youth. Modiji said achhe din will come. Have they come? Where is achhe din?" Addressing the media, he raised the question on Rafale deal again, "Modiji came to power and said we would not buy 126 aircraft. He raised the price from Rs 526 crore to Rs 1,600 crore. That is what the French president said."
Ending his address, he took potshots at the BJP-led Central government stating that it is snatching away the powers of central agencies. Gandhi accused, "When CBI wanted to investigate the Rafale deal, the director was removed at 1:30 am. When the Supreme Court refused, and said it was wrong, and ordered him to be reinstated, he was reinstated. But within two hours, he was removed again."
However, the Congress president did not utter a word on Priyanka Gandhi, but said that the Congress would win the upcoming elections from Uttar Pradesh and show BJP the back door. He was of the opinion that people would teach the BJP a proper lesson in the upcoming polls.