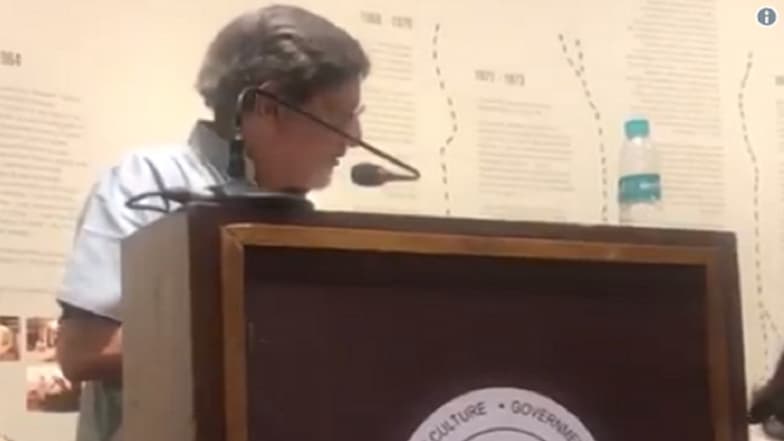 Pune, February 11: Actor-filmmaker Amol Palekar and his wife Sandhya Gokhale on Sunday slammed Anita Rupavataram, director of the Mumbai centre of the National Gallery of Modern Art (NGMA). During a press conference in Pune Palekar told reporters, "We were told by the curator after my speech was interrupted that she was told by the director that I would not be permitted to make any antigovernment statements. It was clear that the director was under pressure." Ayushmann Khurrana to Step in Amol Palekar's Shoes for Chhoti Si Baat Remake?
Palekar and Sandhya during the press briefing without naming any political outfit said that free speech was being censored in different ways and forms. The couple further added that there was an intolerance to anti-establishment views in the country. Palekar also told reporters he was only trying to seek reasons behind the cancellation of retrospectives of two senior artists. Retrospective is an exhibition or compilation showing the development of an artist's work over a period of time.
Just got this video of one of my favourite actors, Amol Palekar, being cut off while ruing the loss of independence in art at @mumbai_ngma simply because he seemed critical of a Ministry of Culture/NGMA decision.

This is what #intolerance in the present times is all about. Sad! pic.twitter.com/u8L30qeiz7

— Annu Tandon (@AnnuTandonUnnao) February 9, 2019
On Friday, the veteran actor was repeatedly interrupted during his speech by some members of the NGMA in Mumbai. Palekar was speaking at the opening of an exhibition "Inside The Empty Box" in the memory of artist Prabhakar Barwe. A video available on social media showed Palekar criticising the Ministry of Culture for reportedly scrapping the advisory committees at the gallery's Mumbai and Bengaluru centres. He was interrupted again and again during his speech. However, Palekar continued his speech.