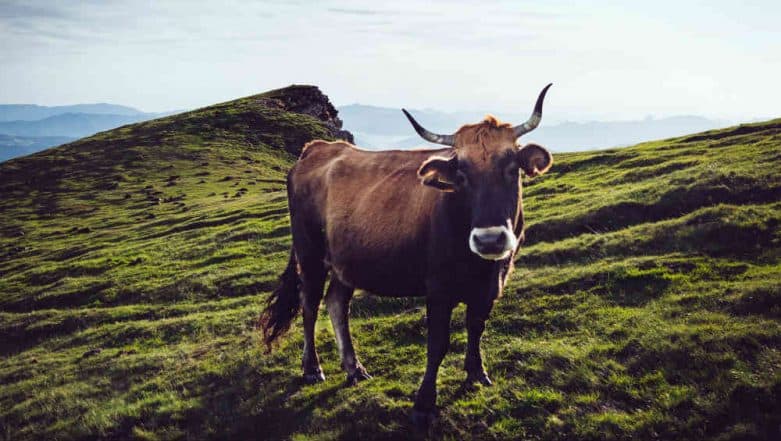 Hyderabad, December 25: In a shocking case of brutality against an animal, a cow, sacred animal for Hindus, was allegedly found sexually assaulted in East Godavari district of Andhra Pradesh, according to a complaint lodged by the owner who prompted police investigation to ascertain whether it was a sexual assault case. The cow, who is three months pregnant had gone missing since Sunday morning and was later found bleeding and tied to a tree in the nearby field. Pregnant Goat Dies After Being Gang-raped by 8 Men in Haryana.
Based on a complaint, a case has been registered under crime number 192/2018, section 2(1) (a) of Prevention of Cruelty to Animals Act 1960 and a probe has been initiated into the matter. The police personnel didn't confirm sexual assault saying that they are waiting for a veterinary report. Uttar Pradesh Beastiality Case: Man Rapes Goat in Hamirpur, Registered for Unnatural Sex with Animal.
This is not the first case of brutality against domestic animals. Every year numerous such incidents are reported but yet the condition is same. Haryana Goat Gangrape: Psychiatrist Explains Zoophilia, Beastiality And Why Human Beings Prey Upon Animals For Sex.
Earlier in October, Eight people from Haryana's Mewat district were arrested for having forcible and unnatural sex with a pregnant goat, who later died. This incident came to light when the cattle owner heard goat's noise and rushed to the spot. Through the accused were identified by villagers but they managed to flee. Later, the accused were arrested and booked under sections of Prevention of Cruelty to Animals Act 1960.
In a similar incident from Mumbai, a male street dog was brutally raped by four men. The incident was reported in Malwani area during the wee hours of November 21. The crime came to light when a local resident, Sudha, spotted the canine bleeding profusely and its genitalia mutilated. Later, Sudha filed a police complaint against the unidentified accused.