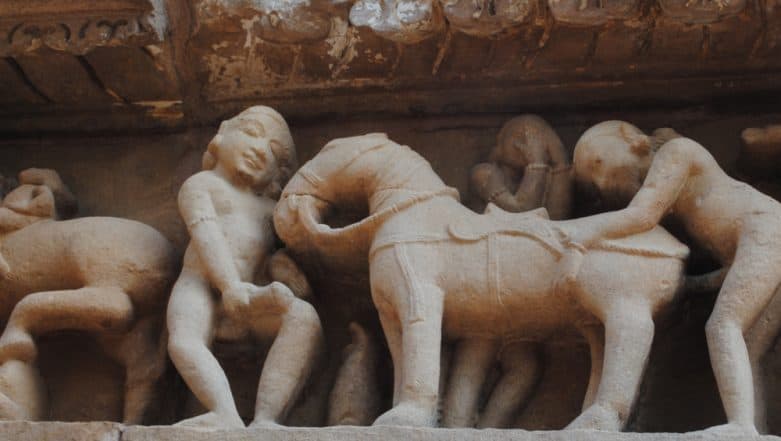 As perplexing as human sexuality can be, there is no preparing you for the idea of men violating animals for sexual pleasure. The recent news where eight men raped and tortured a pregnant goat in Haryana's Mewat district rattled anybody who has heard about it. The men were petty criminals who stole a local's seven-year-old pregnant goat from a local and took turns raping it. Medical reports say that the goat, who was 50-weeks pregnant, died of a brain haemorrhage.
At a time when there is considerable dissent gathering against the section 377 of the Indian Penal Code, the incident has made a case for retaining parts of the controversial law since invoking the "unnatural sex" clause in the law helps bring these offenders to justice.
Paraphilia
Psychiatrist Dr Era Dutta says India presents a contrasting picture with respect to its treatment of animals. "On one hand, Indian culture dictates that all forms of life should be respected and revered. And on the other hand, some of the worst instances of animal cruelty are also seen in the country," she adds.
Although a taboo topic, instances of human beings indulging in sexual practices with animals are not entirely uncommon in India. Videos of men sexually assaulting animals routinely do rounds on the internet. What's more? There's an entire category in porn dedicated to sex acts between humans and animals. Even religious mythology is rife with such stories (Leda and the Swan).
Dr Dutta calls it paraphilia, or an alternate sexual desires outside the usual hetero-homo patterns. "It's a sexually deviant behaviour where the person is attracted to things outside the society's norms like children, animals or inanimate objects. That's when it becomes a disorder," she says.
Zoophilia and Beastiality
In psychological parlance, two terms – zoophilia and beastiality – are often used to describe such deviant behaviour. Zoophilia is a sexual attraction towards animals and bestiality is indulging in sexual intercourse with animals. However, the two may or may not be related. For example, those with zoophilic tendencies may not act on their impulses. Instead, they may explore their paraphilic tendencies through socially acceptable means, like role-playing. And someone who indulges in beastiality may do so because he or she may not have an alternative. This is portrayed in the 2005 movie Mathrubhoomi: A Nation Without Women, where men turn to raping animals due to the shortage of women in the world.
Dr Dutta believes that the latter may be true in the Haryana episode since the sex ratio in state, until recently, happened to one of the worst in the country. "It may not be a case of zoophilia because it is unlikely that all the offenders have the tendency," says the psychiatrist. "It's rather a spontaneous crime (Opportunistic zoophilia) where the men who chanced upon the animal may have decided to assault it because the opportunity presented itself. It's likely they carried out the crime because they don't have the access to fulfil their sexual desire through socially-acceptable means" she adds.
Zoophilic individuals have the tendency to develop romantic and emotional attachment towards animals. Conversely, Dr Dutta says, those who commit opportunistic beastiality may view these animals as just a means to an end, which explains why they torture and maim the creatures: "Gratification for them is just physical. The rapists don't assign any kind of emotional value to the animals."
Do Zoophiliacs Pose A Risk To Their Society?
Animal rights activists are often up in arms against zoophilic rapists, claiming that such sexual deviants often end up hurting children and women. "But it's hard to say," states Dr Dutta. "While the condition is in itself a sexual deviancy, there's no saying whether it's a precursor for paedophilia or other deviant behaviour," adds the doctor.
Risks of Beastiality 
Zoophilic tendencies are reported in a stunning 8.3 percent to 4.9 percent in male and 3.6 percent to 1.9 percent in female population. Apart from its mental health implications, beastiality can also pose health risks. Sexual contact with animals can result in major health problems, but unfortunately, the risks and burden of zoophilia go underreported. Sexual contact with animals can result in leptospirosis, fatal parasitic infections, rabies, urological disorders, penile cancer and even STDs.
(References: Health Risks of Zoophilia/Bestiality; Zoöphilia and Bestiality: Cross-cultural Perspectives)