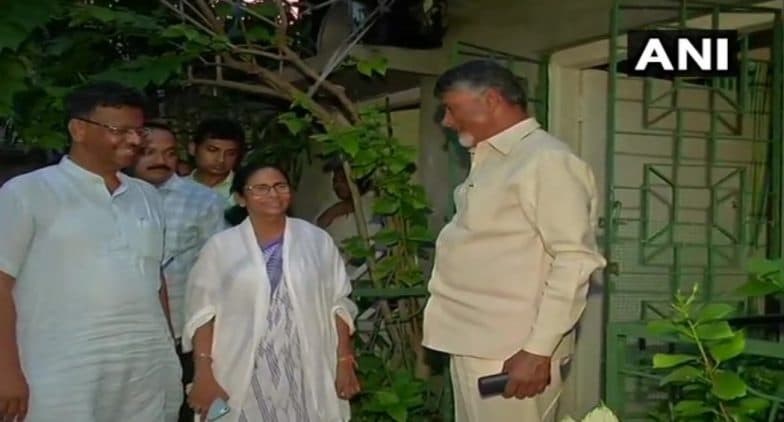 New Delhi, May 20: Andhra Pradesh Chief Minister and Telugu Desam Party (TDP) supremo Chandrababu Naidu on Monday said that he will continue his efforts to form a non-BJP coalition till May 23, the day of 2019 general elections results. Naidu met Trinamool Congress leader and West Bengal Chief Minister Mamata Banerjee in Kolkata. Chandrababu Naidu Preps For Lok Sabha Elections 2019 Aftermath, to Hold 2nd Meeting With Rahul Gandhi Today.
Naidu had held a series of meeting during the last two days with leaders like Congress President Rahul Gandhi, United Progressive Alliance (UPA) Chairperson Sonia Gandhi, and Bahujan Samaj Party leader Mayawati. He also met Akhilesh Yadav, Sharad Pawar and Sitaram Yechury. "I met all so that a collective decision is taken. I will continue my efforts till May 23," he said.
Tweet by ANI:
West Bengal: Andhra Pradesh CM & TDP leader N Chandrababu Naidu meets CM & TMC leader Mamata Banerjee in Kolkata. pic.twitter.com/7a1ndgwYwf

— ANI (@ANI) May 20, 2019
Naidu's efforts come after the exit polls on Sunday predicted a clean sweep for Bharatiya Janata Party in the 2019 Lok Sabha elections. Most of the exit polls by various news and research agencies have predicted 300 plus seats for the BJP-led National Democratic Alliance (NDA). As Chandrababu Naidu Toils For Opposition Unity, Shiv Sena Mocks Andhra Pradesh CM's Efforts.
"Exit polls have proved to be incorrect and far from ground reality in many instances," Naidu tweeted on Sunday. In another tweet, Naidu showed the confidence of TDP retaining power in Andhra Pradesh. "While undoubtedly TDP govt will be formed in AP, we are confident that non-BJP parties will form a non-BJP govt at the center," he said
Naidu slammed the Election Commission of India (ECI), saying that it lost its credibility by giving clean chits to PM Narendra Modi and BJP chief Amit Shah. He said that EVM can be manipulated and demanded election agency to count VVPAT to bring transparency in the system. Andhra CM added that he would consult Mamata Banerjee and other leaders before making a decision on whether to stage a sit-in at EC or make a representation to the President.