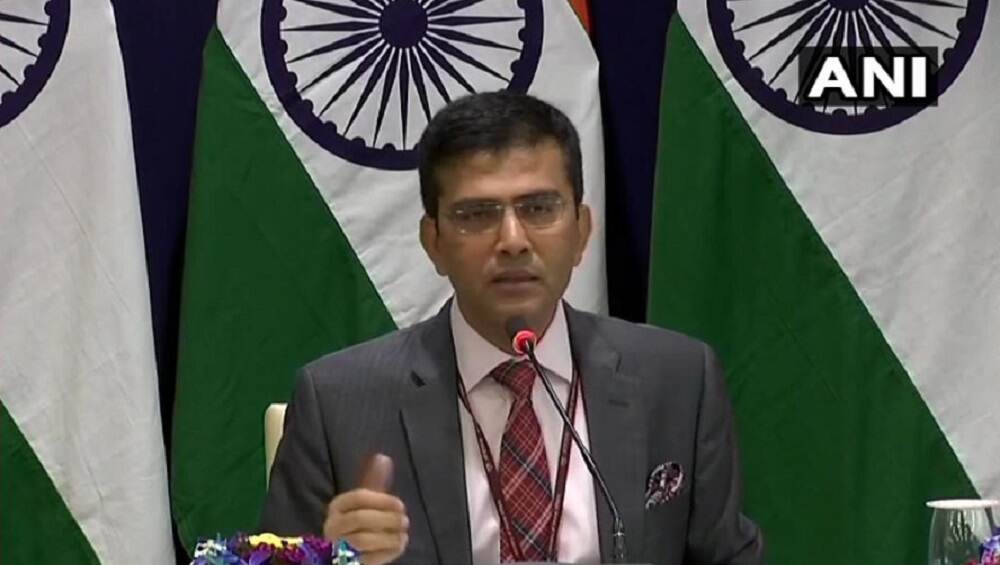 New Delhi, December 12: The Indian Ministry of External Affairs (MEA) on Thursday rebutted the criticism drawn from neighbouring Pakistan and Bangladesh on the passage of Citizenship Amendment Bill (CAB), 2019. The two countries, the Ministry said, should not be concerned about the law as it is related to a subject which is "internal" to India. Imran Khan Fires Fresh Salvo Against 'Hindu Supremacist' Modi Govt Over CAB Passage, Draws Parallels With Nazi Germany.
The MEA statement came shortly after Bangladesh Foreign Minister Dr AK Abdul Momen cancelled his scheduled visit to India hours before he was expected to land in New Delhi.
While Dhaka has not explicitly mentioned the reason for Momen skipping the scheduled "Delhi Dialogue", the cancellation of visit was preceded by his scathing remarks towards Indian Home Minister Amit Shah.
According to MEA spokesperson Raveesh Kumar, the Bangladesh side has conveyed to their Indian counterparts that their Foreign Minister would not be attending the Delhi Dialogue due to last-minute changes in his schedule.
Kumar downplayed the statements issued by Momen against Amit Shah, claiming that the cancellation of his visit should not be linked to the passage of Citizenship Amendment Bill. "These are two different issues. They should not be linked to each other," he said.
"As far as India-Bangladesh relations are concerned, the CAB legislation will not affect it. The CAB is an internal matter of India," Kumar noted, adding that the Indian Parliament is constitutionally mandated to pass laws in interest of the nation.
Update by ANI
Raveesh Kumar, MEA on Bangladesh Foreign Minister cancelling his visit to India: He has given his explanation on cancelling his visit. Our relationship is strong. As leaders of both the countries have said, "this is the golden age of our relations." pic.twitter.com/gWje8kL1FK

— ANI (@ANI) December 12, 2019
On being asked by reporters to clarify on the remarks issued by Amit Shah in Rajya Sabha against Bangladesh's alleged mistreatment of minorities, Kumar said the reference was not the current ruling dispensation in Dhaka but the erstwhile regimes who had taken over power from the country's late founding-PM Sheikh Mujibur Rahman.
Under the current government, minorities are being care of, Kumar said, adding that the Home Minister did not blame the Sheikh Hasina-led regime of persecuting minorities.
Even as the MEA spokesperson's reaction towards the flak over CAB from Bangladesh was nuanced, Abdul Momen did not mince words while condemning Amit Shah.
"There are a very few countries where communal harmony is as good as in Bangladesh. If he (Amit Shah) stayed in Bangladesh for few months, he would see exemplary communal harmony in our country," Momen was reported as saying by the Bangladeshi media.
Meanwhile, the MEA also reacted to the criticism towards CAB by Islamabad. Pakistan Prime Minister Imran Khan called the legislation a part of the systematic agenda of Modi government to turn India into a "Hindu supremacist" nation. The Bill, alleged Khan, drew parallels with legislations under "Nazi Germany".
Reacting to the Pakistan PM's remarks, Kumar said such statements do not warrant a detailed response. "Don't think we need to respond to every statement of Pakistan PM. All his statements are unwarranted, he should rather pay attention to the condition of minorities in Pakistan than comment on internal matters of India," he said.