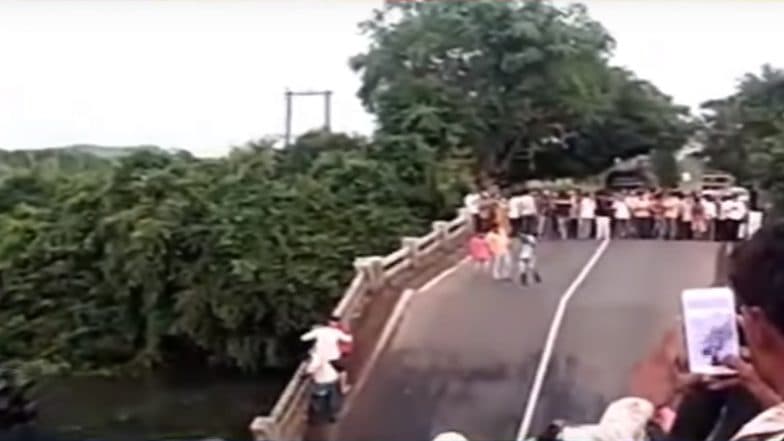 Gandhinagar, October 6: A bridge connecting a major road in Junagadh's Malanka village collapsed on Sunday while four cars were passing over it. No fatalities were reported in the incident, but nearly a dozen commuters were left with injuries. The victims were sent to hospital shortly after the accident was reported in mid-evening. The administration is expected to conduct an inquiry to ascertain the exact cause of the bridge collapse. Navi Mumbai: FOB in Vashi's Sagar Vihar Collapses, 2 Injured.
According to reports, the bridge's condition had turned dilapidated due to the heavy rainfall over the  past three months. However, the bridge was not seen to be as dangerous and was regularly used for commutation by the cars and two-wheelers.
Watch Video of the Site of Accident:
A local, while speaking to reporters, said a huge sound was heard before the sunset which compelled the farmers working in the nearby fields to rush to the location of the bridge. On arriving it was found that the bridge had collapsed and four cars had fallen into the gap.
Subsequently, the police was rushed to the spot. The police team along with the locals rescued the injured victims and took them to the nearest hospital. Their condition is stated to be safe.