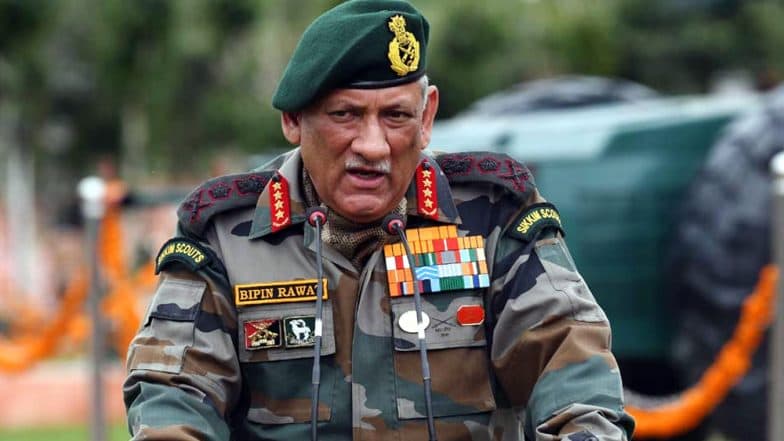 New Delhi, August 19: Amid the escalating tensions with Pakistan, reports emerged on Monday quoting Indian Army chief General Bipin Rawat as saying that his forces were prepared to take war into Pakistan following the Balakot air strikes. The military source, cited in the reports, further claimed that the Indian forces are fully ready to deal with any ground offensive by Pakistan.
"The Indian Army was prepared for conventional warfare with Pakistan which would have included going inside Pakistan," the source was quoted as saying by news agency PTI. The statements were issued by General Rawat during a closed-door meeting with retiring Army officials earlier today. 'Want the Same Bonhomie We Had With Kashmiris in 70s-80s, Hope to Meet Without Guns', Says Gen Rawat
The Army chief's remarks comes amid Pakistan Prime Minister Imran Khan's allegation that India is "planning to wage war" against the nation with the intent of annexing "Azad Kashmir" -- the reference which Islamabad makes for Pakistan-occupied-Kashmir (PoK).
The tensions continue to escalate with Defence Minister Rajnath Singh hinting that India may move away from the no-first use nuclear policy. "Till today we adhere to the no-first use policy, but our decision tomorrow will depend on circumstances," he said on August 16.
A day later, Singh claimed that talks with Pakistan would now be held on the issue of PoK. "Whatever talks take place, that will be on the issue of Pakistan-occupied-Kashmir," he said.
Shortly after the Defence Minister's remarks created flutter, Union Minister Jitendra Singh said it is India's firm resolve to re-integrate the occupied portion of Kashmir with the rest of India.
"After this historic step (repeal of Article 370), let us move forward with a positive thinking of freeing PoK from the illegal occupation of Pakistan and making it an integral part of the country," he said.