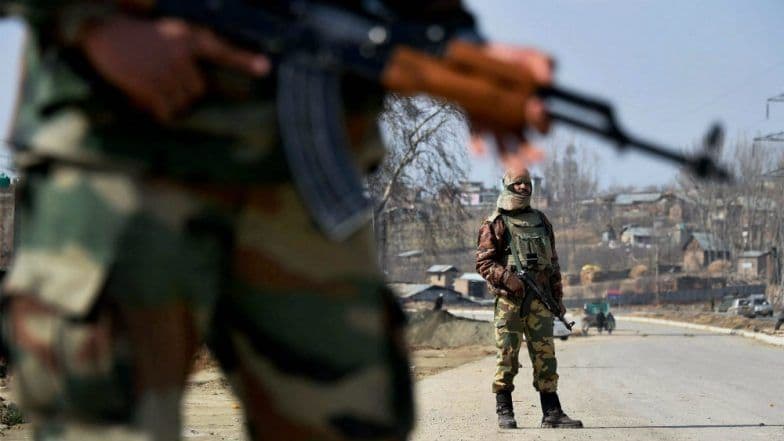 Srinagar, September 11: The security forces on Wednesday gunned down a top ranking LeT terrorist in Jammu and Kashmir. According to details by J&K Police, the terrorist identified as Asif, has been neutralised in an encounter in Sopore in North Kashmir. Reports inform that two police personnel have been injured in the encounter. J&K DGP Dilbag Singh said on specific information, nakas were laid and Asif was challenged to stop but he didn't. "He threw grenade at our parties in which 2 of our police personnel were injured; they are out of danger", Singh said.
Giving details about the LeT terrorist, Singh said he had created a lot of terror in Sopore and was very active over the last one month. The DGP added saying that Asif made use of Over Ground Workers to print posters threatening civilians not to open shops and not to go for their day-to-day activities.
Asif, the LeT terrorist, who has been shot dead, was responsible for shootout and injuries to three family members of a fruit trader in Sopore, including a five-year-old girl Asma Jan. The terrorist was also responsible for a recent shooting at a migrant labourer Shafi Alam in Sopore. Jammu & Kashmir: Firing by Militants in Sopore, 4 Including Infant Girl Injured.
Here's the tweet:
Two police personnel are injured in the encounter in Sopore, Jammu and Kashmir, in which top ranking LeT terrorist Asif has been neutralised https://t.co/2Bbe45bPZd

— ANI (@ANI) September 11, 2019
On Friday, four people, including a five-year-old girl, were injured after terrorists attacked the house of a fruit trader in Sopore district. They were attacked by the militants for opening the shop despite a shutdown warning as there was a shutdown in the Valley. The wholesale market had opened for business for a few morning hours. Jammu And Kashmir: 8 Lashkar-e-Taiba Members Arrested From Sopore District.
Here's the tweet by J&K Police:
Terrorists fired and injured four persons including a baby girl ( Usma jan) at #Dangerpora #Sopore. All injured shifted to the hospital and stated to be stable. Police on spot and investigation in progress . @JmuKmrPolice @diprjk

— Kashmir Zone Police (@KashmirPolice) September 7, 2019
Arshad Ahmad Rather and his five-year-old daughter were among the four victims who were injured in a suspected militant attack in Sopore. This is the second strike on apple traders in the region. The attack was aimed at spreading panic among the apple vendors and trigger unrest in the area.