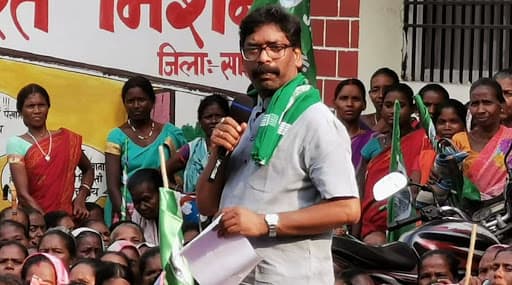 Dhanbad, January 8: Jharkhand Chief Minister Hemant on Wednesday ordered the withdrawal of sedition cases filed against 3000 people in Dhanbad city. He also issued a notice to the investigation officer for falsely framing people in the sedition case. The police in Dhanbad city on Tuesday filed sedition charges against more than 3000 people for protesting against the Citizenship Amendment Act. Hemant Soren Drops Pathalgadi Sedition Cases Against Tribals in a First Move After Taking Oath as Jharkhand CM.
"The law is not meant to scare the public and suppress their voice, but to generate a sense of security in the common public. In the government under my leadership, the law will act to raise the voice of the people," Soren said in a tweet.
"In Dhanbad, the section of sedition imposed on 3000 people has been repealed without any delay and proper action has been recommended against the guilty officer. Also, I would like to appeal to all the brothers/sisters of Jharkhand that the state is yours, it is our duty to respect the law and order," he added.
Hemant Soren's Tweet:
साथ साथ दोषी अधिकारी के ख़िलाफ़ समुचित करवाई की अनुशंसा कर दी गयी है।

साथ ही मैं झारखंड के सभी भाइयों/बहनों से अपील करना चाहूँगा की राज्य आपका है, यहाँ के क़ानून व्यस्था का सम्मान करना हमारा कर्तव्य है। 2/2

— Hemant Soren (@HemantSorenJMM) January 8, 2020
On Tuesday, Dhanbad Police registered sedition case against more than 3,000 people for involvement in a peaceful protest against the National Register of Citizens and Citizenship (Amendment) Act. The protestors were charged under 11 sections of the Indian Penal Code (IPC), including Section 124-A, which relates to sedition.