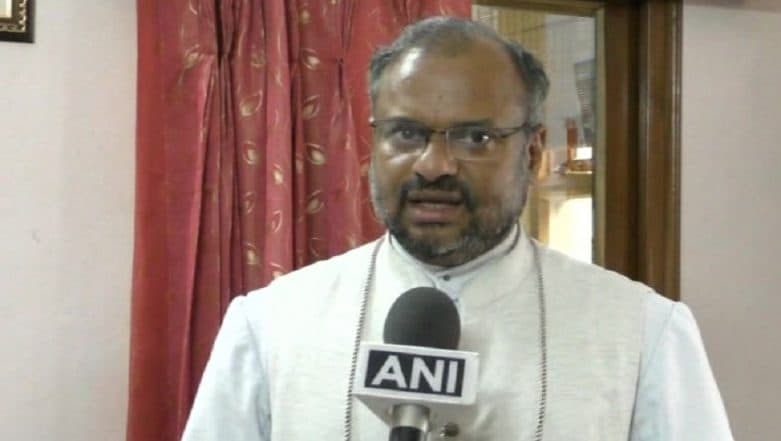 Thiruvananthapuram, Sept 21: Jalandhar Bishop Franco Mulakkal, accused of raping a 44-year-old nun 12 times between 2014 to 2016, was arrested on Friday by the Kottayam police following third consecutive day of interrogation.
Kottayam SP Hari Shanker confirmed the arrest of Mulakkal, claiming that the police has gathered sufficient evidence to prosecute him. Franco Mulakkal Temporarily Removed From Post of Bishop by Pope Francis.
"On basis of the evidence collected so far and the interrogation that continued for three days, we arrested Bishop Franco at 8 pm today in regard to the petition filed against him," the senior police official said.
Following his arrest, Mulakkal was taken for medical examination. He will be produced before the magistrate's court tomorrow, which will decided on his custody. Meanwhile, the Kerala High Court will hear the anticipatory bail plea of Mulakkal on September 25.
Kochi: Social activist Stephen Mathews ends his hunger strike after the arrest of former Jalandhar Bishop Franco Mulakkal in Kerala nun rape case pic.twitter.com/H8sVSLqA5F

— ANI (@ANI) September 21, 2018
Catholic Bishops' Conference issues statement following Mulakkal's arrest:
We have learnt from the media about the developments in Bishop Franco Mulakkal's case. It's a sad moment for all of us. We pray for all involved. We've full confidence in the judicial system: Catholic Bishops' Conference of India on Kerala nun rape case pic.twitter.com/jUHkipOKwy

— ANI (@ANI) September 21, 2018
Earlier in the day, Kerala Minister EP Jayarajan said the government is "not shielding" any of the accused. He said the victim is being provided complete support to seek justice. "We're with the victim. The investigation is being conducted sincerely. No culprit will be allowed to escape," he said.
Mulakkal had earlier been granted a clean chit by the Missionaries of Jesus, which said the victim is being used as a pawn by conspirators to malign the Church.
The victim had registered the police complaint on June 27. The arrest of Mulakkal, however, was delayed which some attributed to his alleged political connections.