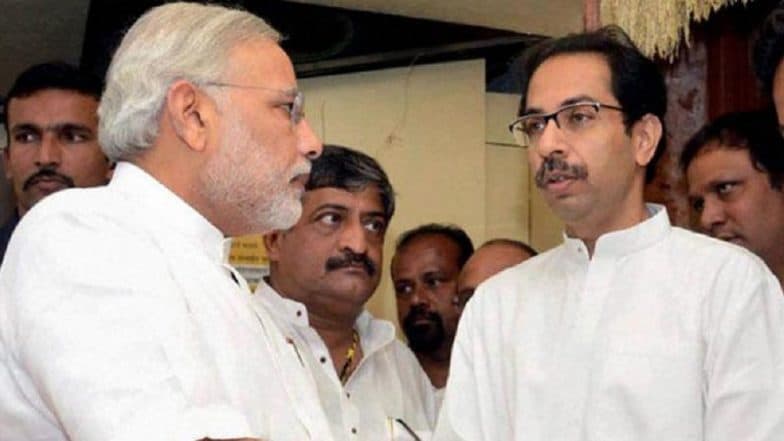 Mumbai, September 16: Shiv Sena chief Uddhav Thackeray has reportedly asked party leaders to be ready to contest the upcoming Maharashtra Assembly Elections solo in case if seat-sharing talks with Bharatiya Janata Party (BJP) fails. Thackeray met senior party leaders on Sunday, September 15, at his residence 'Matoshree' and held discussions over the state polls, Hindustan Times reported. BJP-Shiv Sena Alliance Talks Go Awry Over Seat Sharing
The Sena has been stressing for 50:50 seat-sharing formula. However, differences have emerged between BJP and Shiv Sena over the seat-sharing. Irked by BJP leaders statements that Sena could get fewer seats that the saffron party, Thackeray is looking for going sola in case if talks fail, Hindustan Times reported. Ramdas Athawale Demands BJP-Shiv Sena to Allot 10 Seats to RPI For Contesting in Maharashtra Assembly Elections 2019.
Before the 2019 Lok Sabha elections, both the parties had agreed for contesting on the equal number of seats in the Maharashtra Assembly elections. However, with BJP's return to the centre with a bigger mandate has changed the political scenario.
According to reports, the BJP had offered 106 seats to Shiv Sena out of total 288 Assembly seats in Maharashtra. The Shiv Sena, however, wants to contest at least 120 seats.
Notably, a few days ago, Uddhav Thacked had shared the stage with PM Narendra Modi and Maharashtra CM Devendra Fadnavis and announced that the alliance between Shiv Sena and BJP for Assembly election was inevitable.