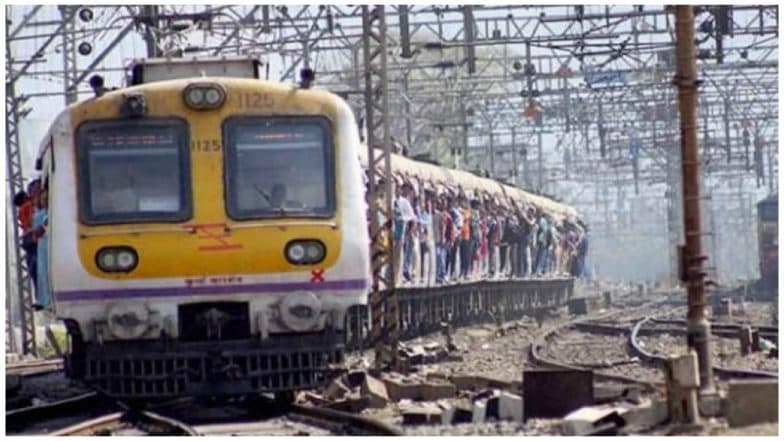 Mumbai, October 11: The Central Railway (CR) on Friday announced a mega block on the suburban sections to carry out maintenance work on October 13, Sunday. Local train services will be affected in Mumbai on Sunday's mega block. On the other hand, local train services will run normal on the Western Line as no mega block has been imposed there. Mumbai: Beggar, Run Over by Local Train, Had Over Rs 8 Lakh in Fixed Deposits, Stashed Coins Worth Rs 1.75 Lakh in Shanty.
During the mega block, all fast and semi-fast trains originating from Chhatrapati Shivaji Terminus (CSMT) from 9:53 am to 2:42 will be averted on the slow line between Matunga and Mulund. These trains will halt at every station between Sion and Mulund and will be late by 20 minutes.
List of Train Services to be Affected:
Matunga-Mulund fast line to be blocked from 10:30 am to 3:00 pm.

The Up fast trains leaving Thane station from 10:46 am to 3:18 pm will halt at Mulund, Bhandup, Vikroli, Ghatkopar and Kurla stations.

All slow Up and Down trains at CSMT between 11:00 am and 5:00 pm will be running 15 minutes behind schedule.

Train on Harbour Line to Vashi, Belapur, Panvel from CSMT from 10:34 am to 3:16 pm will be suspended.

Similarly, Harbour line services for CSMT starting from Vashi, Belapur, Panel will be also suspended from 10:17 am to 3: 00 pm.
Meanwhile, the special local train will run on Panvel-Vashi-Panvel section during the block period. Due to the mega block, local trains are likely to be crowded.