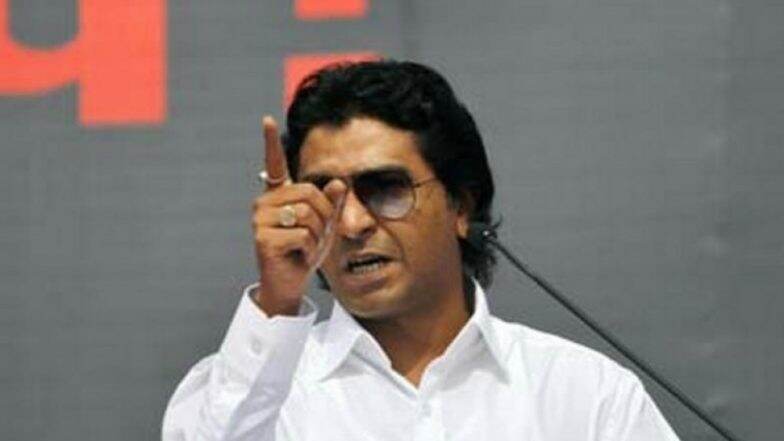 Mumbai, August 23: Maharashtra Navnirman Sena (MNS) on Friday filed a complaint against the Enforcement Directorate for not having Marathi signboards in Mumbai office in Dadar area. The complaint was filed with the district collector. In the complaint, the MNS demanded that there should be a Marathi signboard in investigative agency's Mumbai office. Raj Thackeray Grilled For Over 8 Hours by ED in Money Laundering Case Linked to IL&FS.
In the letter given to the district collector, the MNS also cited a law which makes Marathi signboards mandatory in Maharashtra. The MNS' objection came a day after the investigative agency grilled its chief Raj Thackeray in a money laundering case. Thackeray was questioned by the ED for eight hours.
MNS' Tweet:
ईडी ह्या तपास यंत्रणेचा नामफलक मराठीत असावा अशी मागणी मराठी एकीकरण समितीने केली आहे.. ही मागणी मनसेने केल्याची बातमी एका वृत्तमाध्यमाने केली होती ती आम्ही प्रमाण मानली होती, पण त्यांनी बातमी अधिक अचूक केल्यावर आम्ही देखील मथळा अचूक करत आहोत https://t.co/PlVEahcdub

— MNS Adhikrut (@mnsadhikrut) August 23, 2019
The MNS in its earlier tweet also shared a picture of the signboard outside ED office. The tweet was then deleted.
Here's the screenshot: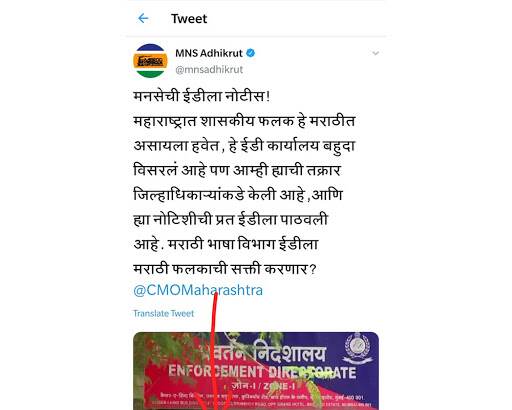 The agency summoned Thackeray earlier this week in a case of alleged irregularities related to Infrastructure Leasing and Financial Services (IL&FS) loan to a company called Kohinoor CTNL. The company was promoted by Unmesh Joshi, son former Maharashtra Chief Minister Manohar Joshi. IL&FS invested more than Rs 200 crore in Kohinoor CTNL and suffered loss in the deal. Thane Bandh: MNS to Withdraw Call After Raj Thackeray Tells Party Workers 'Not to Create Problems For Public'.
Police had imposed section 144 of CrPC (banning unlawful assembly) outside the ED Office in South Mumbai and some parts of Dadar and central Mumbai while Thackeray was questioned. This step was taken to ensure law and order in the city.