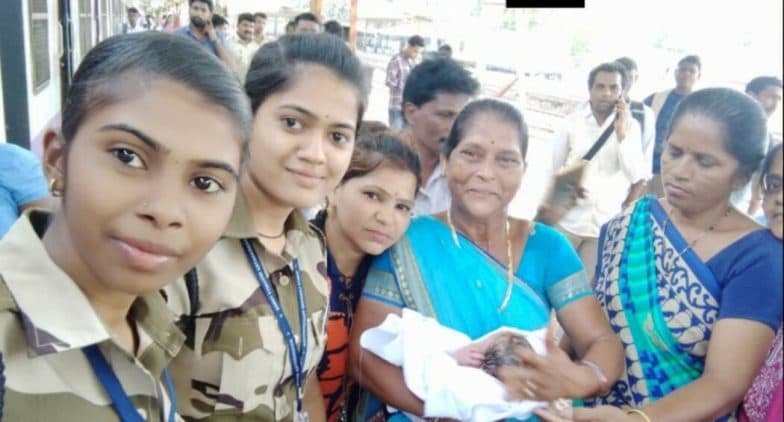 Virar, May 7: A 22-year-old woman who was travelling aboard the Dahanu-Virar local, gave birth to her baby on Virar station. The woman, Sony Patel, a resident of Saphale, experienced labour pain onboard. Sony with her husband, Ajay Patel, was on the way to a government hospital in Virar as she was nine months pregnant.  New Year Baby Born on Moving Train: Mumbai Woman Delivers Twins on January 1, 2019 - One on Train, Other in Railway Station's Waiting Room.
As she experienced severe labour pain, her husband called for help. A woman porter along with other women rushed on the train to help in the delivery of the baby girl. After getting the information, the Western Railway (WR) doctor deployed at the station, rushed to the coach and completed the delivery procedure. Woman Gives Birth to Baby on Ahmedabad- Howrah Superfast Express Train Near West Singhbhum.
Tweet by ANI:
Maharashtra: A 22-year-old woman delivered a baby on a local train coach at Virar station, earlier today. The mother and the baby are in good health and have been admitted to a hospital. pic.twitter.com/j1nJkn3uyW

— ANI (@ANI) May 6, 2019
Later, they were rushed to an ambulance parked outside the station and she was admitted to a government hospital. The condition of mother and baby is said to fine and they will be discharged on Wednesday, said a doctor of the civil hospital.
On May 2, in a similar incident from Virar station, a 36-year-old woman gave birth to a baby girl at Virar station when she was on her way to a medical check-up when she began experiencing labour. She was rushed to a GRP office, where, she gave birth to a baby girl with the help of head constable Priyanka Mane