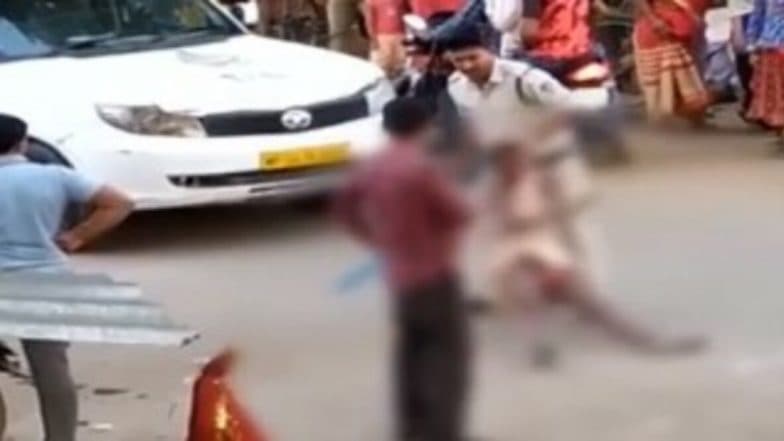 Bhind, October 10: In a shocking incident, a police constable from Madhya Pradesh was seen brutally thrashing a mentally ill man in a broad daylight. After the video went viral, the accused policeman was suspended. The incident is reported to be from Bhind district's Umri police station area. The police inspector has been identified as Jeetu Tomar, Mirror Now reported. UP Policemen Thrash Man, Drag Him on Road After Spat Over Traffic Rules Violation, Suspended; Video Goes Viral.
The incident took place on Thursday when the world was marking Mental Health Day 2019. According to the report, initially, the mentally unstable man was fighting with an animal, when the police constable intervened and began kicking him. Tomar also thrashed the victim with a stick and dragged him on the busy road.
Police Constable Thrashes Mentally Ill Man in Bhind
Superintendent of Police (SP) Rudolf Alvares said that the department has taken cognizance of the matter after the episode went viral on social media. Condemning Tomar's behaviour, the authorities have suspended him with immediate effect.
Every year, October 10 is celebrated as World Mental Health Day. The theme for WMHD 2019 is "suicide prevention". The reason for celebrating this day is to create awareness about mental health disorders and battling the stigma attached to it.