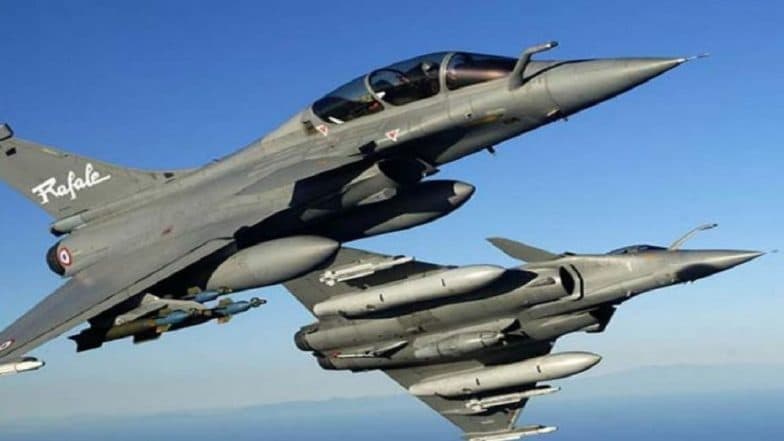 New Delhi, February 14: The Comptroller and Auditor General (CAG) of India said in its report, tabled in Parliament on Wednesday, observed that the cost to acquire 36 Rafale fighter jets could have been reduced had the benefits of waiving of the bank guarantees for the vendor (Dassault Aviation) been passed on to India. The CAG also criticised the very selection of Rafale fighter jets in the never-formalised medium multi-role combat aircraft project under the previous Congress-led UPA government.
The CAG noted that it was Dassault Aviation and not the Indian government that was benefitted by the non-inclusion of a bank guarantee in the deal. The amount saved by the Dassault Aviation due to the non-inclusion of a bank guarantee should have been passed on to the Indian government, the auditor said. This could have reduced the price of Rafale fighter jets. Rafale Deal Controversy: Congress Launches Fresh Salvo at Narendra Modi, Accuses BJP-Led Government of Buying Aircraft at Higher Prices.
The CAG report also points out that the Modi government could have purchased Rafale aircraft at 14 per cent cheaper had the Ministry of Defence (MoD) succeeded in removing some items from the aircraft which were not required by the Indian Air Force. However, the auditor concluded that the Rafale deal signed by the Modi government was 2.86 per cent lower than the price negotiated by the UPA government.
The CAG objected to the selection of Rafale fighter jets on several grounds in its report. Dassault was provided the opportunity to "significantly modify its technical and price bids (submitted earlier) in clear violation" of the Defence Procurement Procedure, it said. Dassault's bid was "non-compliant" on warranty and option clauses, while Rafale also failed to meet 14 ASQRs (air staff qualitative requirements) during the field trials, the auditor pointed out.
The CAG also said that Dassault did not submit its price bid in the prescribed format, including cost break-up under seven heads that were crucial for price evaluation.