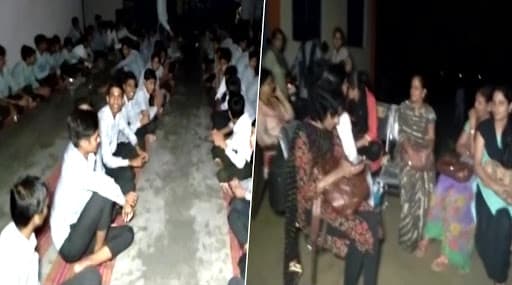 Jaipur, September 15: As heavy rains lashed Rajasthan in the last 24 months, more than 350 students and 50 teachers are stuck at a school in Chittorgarh district of the state since Saturday. There has been a flood-like situation in the district as roads are blocked due to heavy discharge of water from Rana Pratap Dam. According to reports, locals are providing immediate assistance and food to the students and teachers. Monsoon 2019: In Rajasthan, Pratapgarh, Kota Witness Flood-Like Situation Due to Incessant Rainfall; IMD Predicts Heavy Showers in Gujarat, Madhya Pradesh.
The Indian Meteorological Department (IMD) forecast heavy to heavy rainfall over East Rajasthan on Sunday. Meanwhile, due to incessant rains, several districts of the state are facing the flood-like situation. As the water level has risen in Jakham and Mahi rivers, several parts of Pratapgarh district are submerged.
ANI's Tweet:
Rajasthan: More than 350 students & 50 teachers are stuck at a school in Chittorgarh since yesterday, as roads are blocked due to heavy discharge of water from Rana Pratap Dam. Locals are providing immediate assistance & food to the students & teachers. pic.twitter.com/QbW5XJjJY5

— ANI (@ANI) September 15, 2019
Meanwhile, Rajasthan's Kota is facing a flood-like situation because of heavy downpour in the neighbouring state of Madhya Pradesh. Most of the dams in the area have reached the danger mark. According to a India Today report, on Friday, 18 gates of Kota Barrage dam were opened. Odisha Rains: 4 Dead As Heavy Rainfall Batters State, Flood-Like Situation Cripples Normal Life in Several Districts.
The IMD also predicted heavy rainfall over isolated places in Uttarakhand, Uttar Pradesh and West Madhya Pradesh on Sunday.  The weather forecasting agency also predicted that places over Sub-Himalayan West Bengal, Sikkim, Andaman, Nicobar Islands, Assam and Meghalaya will also witness heavy downpour throughout the day.
"Tamil Nadu, Puducherry, Karikal, Coastal Andhra Pradesh, Yanam and Gujarat Region," the IMD stated in its All India Weather Warning Bulletin. Thunderstorm accompanied with squall (wind speed 50-60 kmph) very likely to occur at isolated places over Andaman and Nicobar Islands; with lightning at isolated places over Bihar, Jharkhand, Odisha, and Gangetic West Bengal.