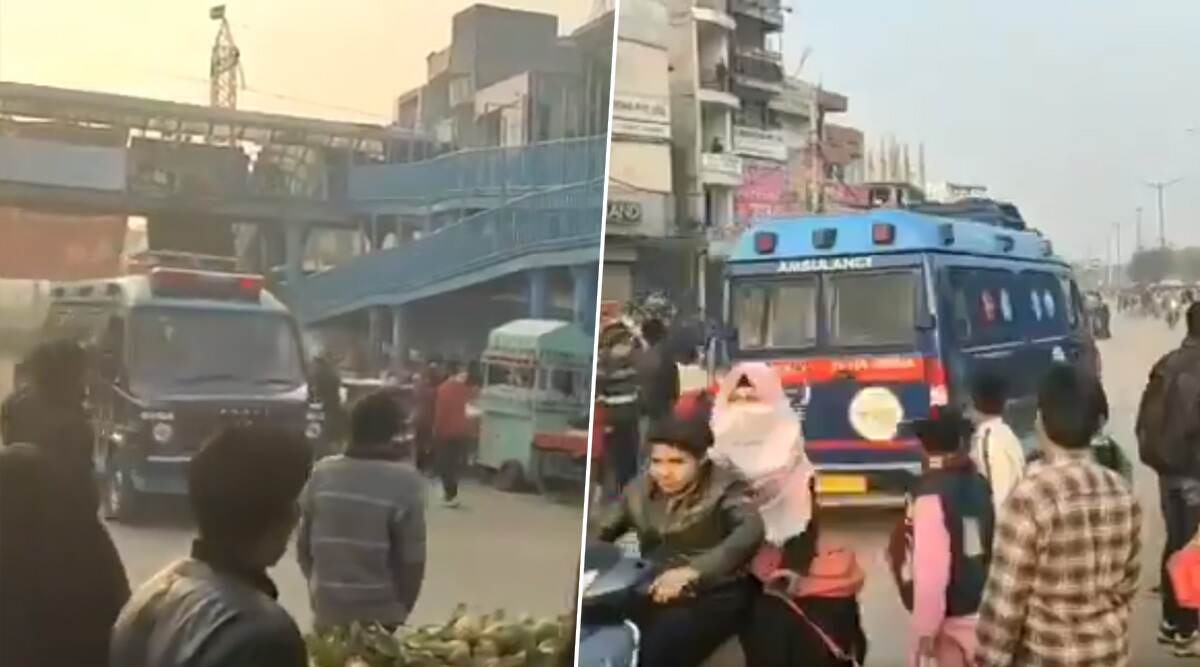 New Delhi, January 19: The anti-CAA protests at Delhi's Shaheen Bagh has become the most talked about protests in recent times. The Shaheen Bagh protesters have seen it all in the last 35 days. From effusive praise to baseless allegations, the protesters are facing it all and are still protesting. A recent video showing protesters at Shaheen Bagh near Kalindi Kunj road stretch helping an ambulance to pass through as cops stand and watch has become a topic of discussion on social media. Jamia Millia Islamia Students Make Way For Ambulance During CAA Protest, Win Hearts on Social Media (Watch Video).
In a CCTV video shared by India Today reporter Tanushree Pandey on the micro-blogging site, it can be seen that an ambulance halts due to the barricades put on the road. A few cops are also seen standing near the ambulance. However, a few man come running to take the barriers out of ambulance way. Shaheen Bagh Protests: Delhi Police Appeals Anti-CAA Demonstrators to Clear Kalindi Kunj Stretch in 'Larger Public Interest'.
Watch the Video Below
An ambulance was stuck at #KalindiKunj. And,while men in uniform stood, people at #ShaheenBaghProtest came running to remove barricades, to give way to ambulance. FACT - Protestors have been doing all they can to ease the traffic around #Jamia & Shaheen Bagh from Day1 #CAAProtest pic.twitter.com/ARjp82ygOn

— Tanushree Pandey (@TanushreePande) January 18, 2020
This incident is reminiscent of the Jamia Millia Islamia University protests by students, where the crowd made way for an ambulance as they were protesting.
With the anti-CAA demonstration at Shaheen Bagh crossing a month's period, the Delhi Police on Friday issued an appeal to protesters to withdraw from the arterial Kalindi Kunj stretch in "larger public interest". In a statement issued by the police department, the inconvenience being caused to commuters and emergency service providers was cited as the reason behind their appeal to end the ongoing agitation at Shaheen Bagh.