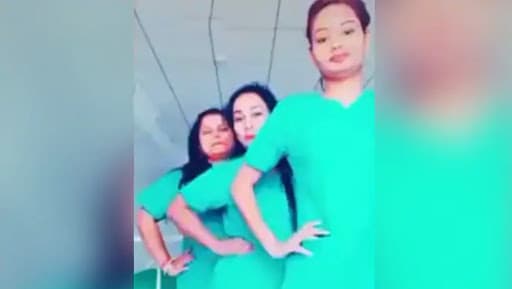 Malkangiri, June 27: Chief District Medical Officer (CDMO) of Odisha's Malkangiri on Wednesday issued a show-cause notice to the nurses recording TikTok videos inside the special neonatal care unit (SNCU). Hospital's officer-in-charge Tapan Kumar Dinda said an inquiry is being conducted into the incident. Tik Tok Ban Can't Stop These 10 Hilariously So-Bad-They're-GOOD Videos! Watch Them Here.
Meanwhile, Reacting to the video, the CDMO promised to take action against the nurses for extreme medical negligence. CDMO Malkangiri, Ajit Kumar Mohanty said, "I probed and informed officers and Collector. They (nurses) will be given show-cause notice and 24-48 hours to give reply over this. Department will take action against them." TikTok Star Mohit Mor Shot Dead in Delhi: The Fitness Enthusiast Had a Heart of Gold and These Viral TikTok, Instagram Videos Are a Proof!.
Watch The Viral Video
The Tik Tok video went viral on social media. In the video, the nurses dressed in their scrubs can be seen dancing to the tunes of songs and lip-syncing to funny dialogues. The hospital beds and child patients can also be seen in the video. The SNCU was set up at the hospital for the treatment of critically ill newborn children.