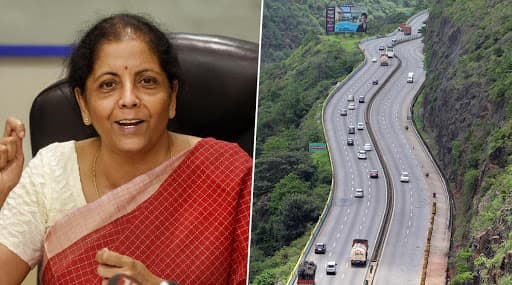 New Delhi, January 15: With barely 15 days left for the Union Finance Minister Nirmala Sitharaman to present the annual Budget 2020 in the Parliament, reports are arriving that the Road Transport and Highways Ministry has sought a rise of budgetary allocation by Rs 8,000-10,000 crore for the financial year 2020-21.
Informing about the latest development, a senior government official said, as quoted by business daily livemint, "We expect a hike in budgetary allocation by Rs 8,000-10,000 crore in the upcoming financial year. But we do have enough funds and we have received funds from banks also this year." Budget 2020 Expectations: From Reduction in Income Tax to Steps For Revival of Economy, Here's What is Expected From Nirmala Sitharaman's 'Bahi Khata'.
It is to be known that Union Finance Ministry had hiked the budget allocation to the ministry of road transport and highways to Rs 83,016 crore in 2019-20 from Rs 78,626, which is a significant rise by six percent. The National Highways had allocated 36,691 crore from the allocated budgetary support in their current financial year, adds the daily.
Since the country is going through an economic slowdown, the Union Finance Ministry wants other ministries to look out routes to raise funds via asset monetisation. Similar applications have been suggested for the NHAI to opt for toll-operate-transfer (TOT) model and infrastructure investment trusts (InVITs). The road ministry is planning to raise as much as rs 75,000 crore from markets. This year, the Union Budget will be presented on February 1, 2020.