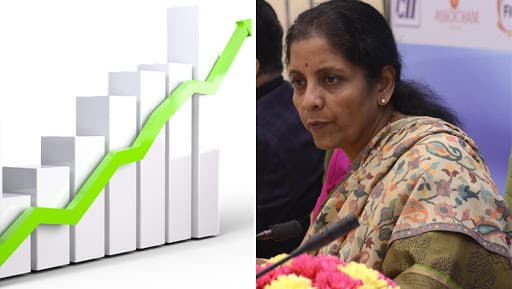 New Delhi, January 10: Union Finance Minister is all set to present the Union Budget 2020 in the parliament on February 1. Amid the economic crisis and slow Gross Domestic Product (GDP) growth rate, people from all sectors are looking at the Union Minister with high hopes and expect some remarkable decisions would be taken by the Finance Ministry to revive the condition of Indian economy.
The expectations of Indian people range from rebate in income tax to a decrease in GST cess of essential products. Also, decrease in fare of recently hiked fare of railway tickets and rebate in export duty are of premium products are some to the demands that are making the rounds. Union Budget 2020-21: Nirmala Sitharaman May Forgo 15% Corporate Cess on FPI, Cut in Tax Rates For Individual Taxpayers Under Consideration.
Apart from this, market experts have suggested a cut in the corporate tax rate and bring it under 15 percent, which was slashed to 22 percent in September by the Union Finance Ministry. Considering the slumping growth rate of auto sector, auto makers are also seeking out of box policies to revive the sector.
Here are some to the Union Budget 2020 expectations:
Income Tax: As per the government estimates, the Finance Ministry had received several requests to make changes in Income Tax slabs. The taxpayers are asking to go away with five percent tax and four percent cess for resident individuals -- earning between Rs 2.5 lakh and Rs 5 lakh -- below 60 year of age. Also, demands to slash the IT rate of 20 percent to 10 percent for those earning between Rs 5 lakh and Rs 10 lakh.
Corporate Tax Rate: Apart from the millennial, the corporate sector is expecting a reduction in the cess. They expect that Union Minister might slash the cess by 15 percent or below, which was earlier decreased to 22 percent from 30 in September 2019. Among the worst sufferer of the economic slowdown has been the auto sector, whose December 2019 sale dropped by 13.08 percent. Similar has been the situation of consumer products like biscuits making companies. Year-Ender 2019 on Indian Economy: 5 Key Decisions Taken by Nirmala Sitharaman to Fix The Plunging Economy This Year. 
Banking Sector: Another sector which is seeking constructive changes and announcements is the banking sector. In the last three quarters of FY 2019-20, the banks have suffered a lot and the liquidity had been an issue. Though Reserve Bank had decreased the repo rate by 135 basis points and Sitharaman had merged public sector banks -- making it 12 from 27, expectations are high that some landmark announcements would be made to make this sector work efficiently.
Aviation and Telecom Sectors: With the Union Civil Aviation Minister Hardeep Singh Puri and Telecom Ministry mulling for disinvestment in these two sectors, the workers in these sectors are looking with high hopes at some announcements that might help their survival. Though not much could be speculated as of now, however, stable liquidity flow is what the corporate are looking forward to.
Agrarian Sector: This is perhaps one sector to which the government can't ignore, as the National Crime Records Bureau (NCRB)'s report on 'Crime in India-2018' reveals a total of 10,349 people involved in the farming sector, including 5,763 farmers or cultivators, committed suicide in 2018. Also, the recent inflation, rise in seeds' prices, agrarian goods, lack or excessive rains and crop failures have created an anxiety towards Sitharaman's red 'bahi-khata'. Farmer Suicides in India: 10,349 Farmers Ended Their Lives in 2018, Says NCRB Data.
Major relief in agrarian sector is expected, apart from loan waivers.  Government sources say that the ministry is likely to hike the Minimum Selling Price (MSP) once again for the farmers and might add some more features in PM-KISAN. Among all things, budget on defence, healthcare, education, housing, and others are likely to get a boost. However, as stated earlier, every step of the Finance Ministry is being monitored, which has aimed for USD 5 trillion by 2024.