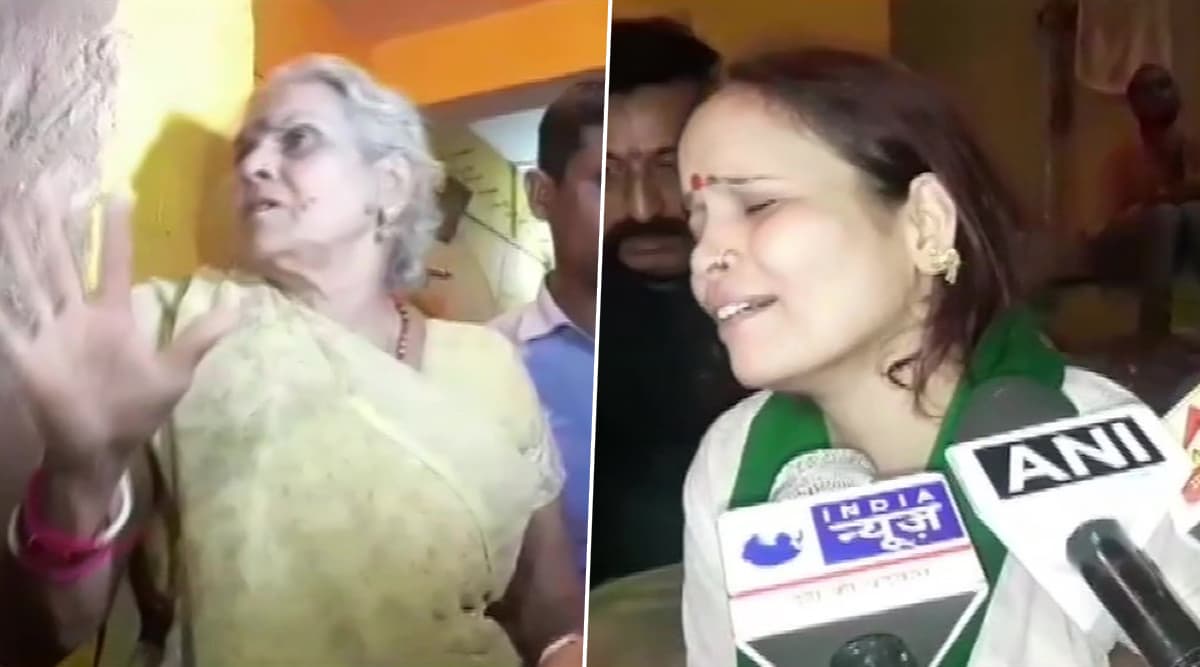 Lucknow, October 19: A day after Kamlesh Tiwari, leader of the Hindu Samaj Party and a former leader of the Hindu Mahasabha, was shot dead in Lucknow, his Kiran has threatened to self immolate herself demanding justice for her husband. Self-immolation is an act of killing oneself for political or religious reasons, particularly by burning. Kiran revealed that her husband used to get threat calls every day but the administration did not act upon it. Moreover, Tiwari's family members said they won't cremate his body till the time Chief Minister Yogi Adityanath visits them. The family also demanded security and government job for his two sons. Tiwari's mortal remains arrived at his native place in Muhmadabad on Friday night. Kamlesh Tiwari, Hindu Mahasabha Leader, Shot Dead in Lucknow.
According to a latest update, there were reports that UP Police has arrested Maulana Anwarul Haq from Bijnor in connection with Tiwari's murder case. In 2015, Haq had announced a reward on Rs 51 lakh on beheading of Kamlesh Tiwari. Avinash Chandra, ADG Bareilly Zone clarified that Haq has not been arrested and investigation is still underway.
The 45-year-old leader was shot dead in broad daylight on Friday following which he was  rushed to the trauma centre where he succumbed to his injuries. According to a report by IANS, the two attackers, wearing saffron clothes, walked into Tiwari's office in Khurshid Bagh area in Lucknow on the pretext of handing over a box of sweets. The report further informs that after walking in, the assailants opened the box, took out the firearm, shot Tiwari and fled from the spot. Kamlesh Tiwari Murder Case: Uttar Pradesh Police Book Two Muslim Clerics For Hindu Mahasabha Leader's Murder After Wife Lodges Complaint.
As soon as the incident was reported, an investigation was launched into the matter. Reports inform that prima facie, it appears the two men attacked Tiwari due to 'personal animosity'. UP Director General of Police OP Singh had said that accused knew Tiwari as they spent around 30 minutes with him on the pretext of gifting him sweets. Singh added that the shooting of Tiwari was "purely a criminal activity conducted by two people".
Meanwhile, Lucknow Senior Superintendent of Police Kalanidhi Naithani said police teams have been formed to arrest the assailants. A Special Investigation Team (SIT) has been constituted to investigate Tiwari's murder.
Tiwari, a former Hindu Mahasabha leader, had formed the Hindu Samaj Party in January 2017. In the past, Tiwari had made highly controversial remarks involving Prophet Muhammad for which he was arrested and the National Security Act (NSA) was slapped on him. Recently, the Lucknow bench of the Allahabad High Court revoked the NSA against him.
Several similar incidences have came to light in the past. This is the fourth  murder of a right-wing leader this month. On October 10, a BJP leader Kabir Tiwari was shot dead in Basti which led to student groups going on a rampage and burning down government vehicles.