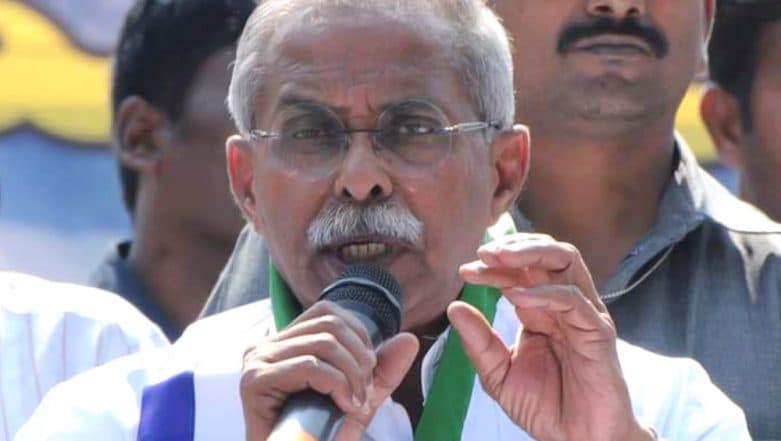 Kadapa, March 15: Yuvajana Sramika Rythu Congress Party, popularly known as YSR Congress, on Friday demanded a CBI investigation into the death of YSR leader YS Vivekananda Reddy, former minister and younger brother of former Andhra Pradesh Chief Minister Y S Rajasekhara Reddy, who was found dead at his residence in Andhra Pradesh's Kadapa district earlier today. YS Vivekananda Reddy, Leader of YSR Congress, Dies.
The personal assistant of Vivekananda Reddy, M V Krishna Reddy lodged a police complaint expressing doubts over the nature of death as the blood clots were found in the bathroom and the bedroom. Reddy's nephew Y S Avinash also alleged that it was not a natural death and sought an investigation. "There were two injuries on his head, one each on the front and the back. So, a thorough probe is required to establish the cause of death. There could possibly be a conspiracy angle as well that needs to be probed," Avinash Reddy said in Pulivendula to PTI.
A case of unnatural death has been registered and the body moved to the Pulivendula government hospital for autopsy. On hearing the news, YSR Congress president Y S Jaganmohan Reddy and his mother rushed to Pulivendula. Hyderabad: Telugu Actor and Comedian Ali Joins YSR Congress Ahead of Lok Sabha Elections 2019.
"There was no response when I went to his house this morning. I called his wife in Hyderabad over the phone and she asked me not to disturb him. Later, the cook and other household staff reached the house but they too did not get any response. I then went in through a side door and found Vivekananda's body in the bathroom, with blood clots in the bedroom and the bathroom," Krishna Reddy said to PTI.
Vivekananda Reddy was elected to the Lok Sabha from Kadapa Constituency in 1999 and 2004. He was also a part of Andhra Pradesh Legislative Council (APLC) in 2009. The 68-year-old leader had also served as the agriculture minister under N Kiran Kumar Reddy.
(With PTI Inputs)