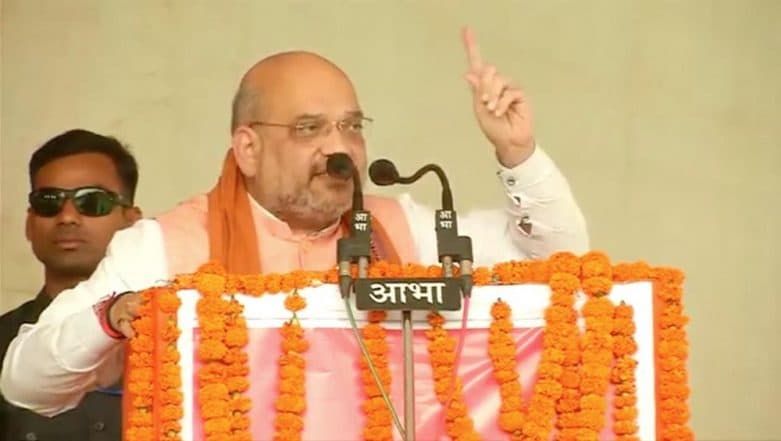 Kolkata, May 13: Bharatiya Janata Party (BJP) president Amit Shah has reportedly been denied permission by the Trinamool Congress government in West Bengal to hold a rally in Jadavpur, which goes to polls in the final phase of Lok Sabha elections 2019. According to news agency ANI, Shah has also not been permitted to land his chopper in the poll-bound region.
The denial of permission by the Mamata Banerjee government comes amid a heated war of words brewing between the TMC and the BJP. The latter has accused the Chief Minister of imposing an undeclared emergency in the state. The accustation grew louder after a BJP youth wing worker was arrested last week for sharing a meme of Banerjee. 'Wanted to Give PM Modi 'Tight Slap of Democracy' After He Called TMC Tolabaaz'
Shah, who was scheduled to address a rally in Jadavpur today, had urged the party cadres to thrust all their might behind their candidate from the seat, Anupam Hazra.
Update by ANI:
#Correction BJP sources: Party President Amit Shah denied permission to hold rally* in Jadavpur, also denied permission to land chopper. https://t.co/ToFeR3xB4w

— ANI (@ANI) May 13, 2019
While BJP is banking on Hazra to seal its maiden victory in Jadavpur parliamentary seat, the TMC has given ticket to actor-cum-politician Mimi Chakraborty. The Communist Party of India (Marxist) has fielded Bikash Ranjan Bhattacharya.
In 2014, the Jadavpur seat was won by then Trinamool leader and noted academician Sugata Bose. The lawmaker was denied a ticket in this elections after he reportedly aired his grievances against the party's manner of functioning.