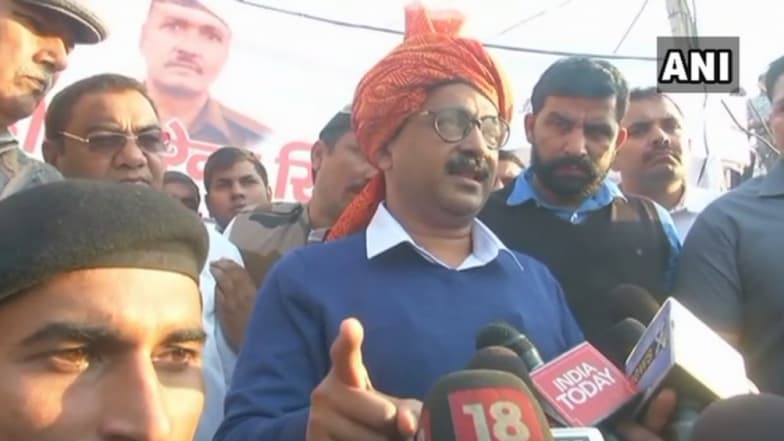 New Delhi, December 29: Aam Aadmi Party convener and Delhi Cheif Minister Arvind Kejriwal attacked Bharatiya Janata Party by stating that the Congress didn't win elections, but BJP lost three states - Rajasthan, Madhya Pradesh and Chhattisgarh. He was of the opinion that people wanted a change and that is why they voted against the BJP.
Addressing the seventh National Council (NC) meet of the Aam Aadmi Party in Delhi, Kejriwal said, as reported by Times Now, "The Congress hasn't won the three states (Rajasthan, Chhattisgarh and Madhya Pradesh) but it's the BJP who lost it. People did not vote to make the Congress win, but to defeat the BJP." Sheila Dikshit on Congress Alliance With AAP in 2019: Open to Idea Provided High Command Shows Green Signal.
With the comments, Kejriwal also wanted to snub the Opposition at the Centre, but former Delhi chief minister Sheila Dikshit was quick to give a befitting answer. Reacting to the comment, she said, "Well, it might be a politician's opinion but certainly not the voters'. The voters wanted a change for the better, and they brought it around."
She further added, "People have taken a decision, the voters have taken a decision. The choice of a government is the voters' prerogative. We too can say the same thing about his election."
Earlier Dikshit had stated that she is okay with the idea of an alliance with Kejriwal for the upcoming 2019 Lok Sabha polls, but with the latest comment had again distanced both the leaders and the parties. However, Kejriwal has not commented anything on the alliance with Congress as of yet.