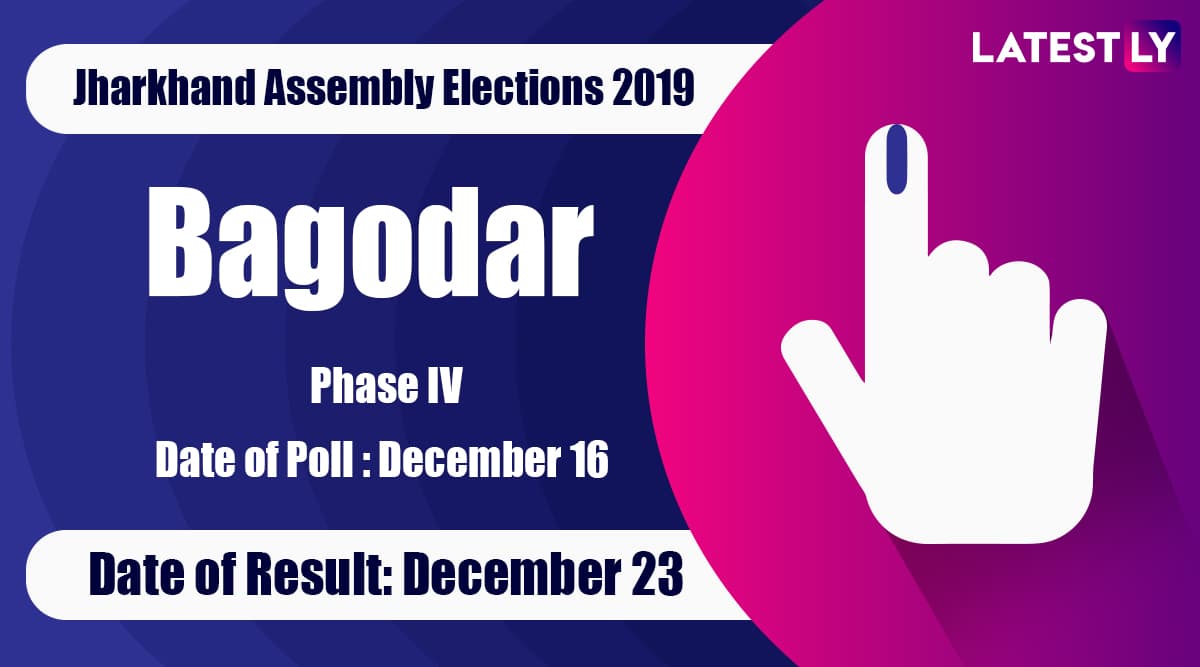 Ranchi, December 23: Vinod Kumar Singh of the Communist Party of India (Marxist-Leninist) (Liberation) has won the Bagodar Vidhan Sabha seat. The polling in Bagodar assembly constituency in Jharkhand was held in the fourth phase on December 16, 2019. The Bagodar seat falls in the Giridih district and comes under the Kodarma Lok Sabha constituency. The sitting MLA of the Bagodar constituency is Nagendra Mahto. Even this year, the BJP had given its ticket to Nagendra Mahto while the JVM(P) had given its ticket to Rajni Kaur. Phase-Wise List of Seats Going to Polls in Jharkhand.
The major political parties contesting the Assembly Elections in Jharkhand include Bharatiya Janata Party (BJP), Jharkhand Vikas Morcha (JVM) and the alliance between Jharkhand Mukti Morcha (JMM), Congress and Lalu Prasad Yadav's Rashtriya Janata Dal (RJD). These three parties have come together to take on the BJP in the ensuing elections for the 81-member Jharkhand assembly. While BJP plans went solo this time, the JMM contested on 43 seats, Congress contested on 31 seats and RJD contested on 7.
In Jharkhand, the five-phase elections were held between November 30 to December 20. The first phase of election in the state had taken place on November 30. The voting for the third phase will be conducted on December 12, the fourth phase on December 16, and the fifth and last phase on December 20.
In the 2014 Assembly polls in Jharkhand, the BJP had won the elections by defeating Congress and its major allies RJD, Janata Dal (United), and Jharkhand Mukti Morcha (JMM). Ever since Jharkhand was formed, it was the first time in 2014, that a single-party (BJP) formed a majority in the state assembly. The BJP had won in 43 seats out of 81 seats, 2 more that required majority.
| MLA Candidates | Party | Votes |
| --- | --- | --- |
| RAJANI KAUR | JVM | 8749 |
| NAGENDRA MAHTO | BJP | 83656 |
| LALITA KUMARI | IND | 2582 |
| JAGDISH MAHTO | IND | 2316 |
| VASUDEV PRA VERMA | INC | 2049 |
| DEEPAK PRASAD SINHA | AIFB | 1555 |
| DASHRATH SINGH | IND | 1245 |
| JAY PRAKASH PRASAD | IND | 1244 |
| TEKOCHAND MAHTO | IND | 1172 |
| ANUP KUMAR PANDEY | AJSU Party | NA |
| DAMODAR PASWAN | Lok Jan Shakti Party | NA |
| VINOD KUMAR SINGH | Communist Party of India (Marxist-Leninist) (Liberation) | NA |