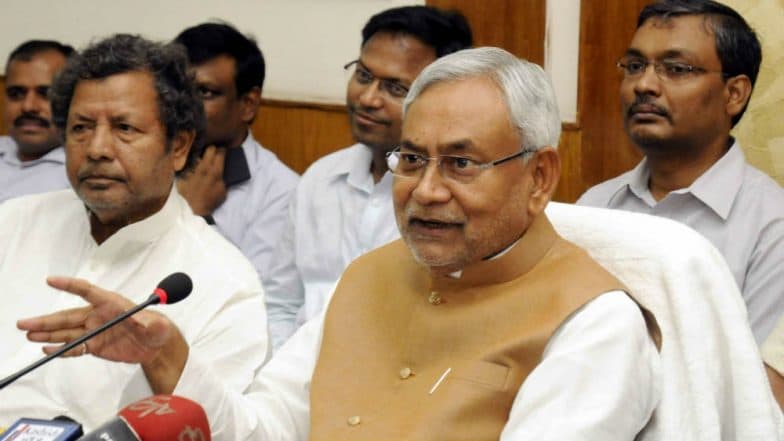 Patna, February 12: The Nitish Kumar-led Bihar government presented its annual Budget in the state Assembly on Tuesday allocating the maximum amount for the education sector. Along with this, the state government mentioned that no new taxes have been imposed for its citizens. Presenting the Budget, Deputy Chief Minister Sushil Kumar Modi said that Rs 34,798.69 crore has been allocated for the education sector, which is the highest ever in state's history.
Informing more about the Budget, Modi in his address in the Legislative Assembly said that the Budget of Rs 2,00,501.01 crore is Rs 23,510.74 crore more than the current 2018-19 year's Budget of Rs 1,76,990.27 crore. Modi, also the state Finance Minister, said that the current Budget is nine times more than the previous Budget of 2004-05, i.e. Rs 2,00,501 crore in 2019-20, from Rs 23,885 crore in 2004-05. Himachal Pradesh Budget 2019-20: Ahead of Lok Sabha Elections, More Focus on Villagers in Rs 44,388-Crore Budget.
Modi in his address to the Assembly stated that the government cannot impose any new taxes under the Goods and Services Tax (GST) regime. He said to the media, as quoted by PTI, "The increase in the size of budget indicates that the state is witnessing high growth which is evident from the CRISIL report based on government data which said that Bihar registered the highest growth rate of 11.3 per cent among major states in the country in 2017-18. We expect that we will be able to maintain the high growth momentum in future too."
With an estimated state's fiscal deficit of 2.81 percent of the gross state domestic product (GSDP), the state Budget is of expected at Rs 16,101.05 crore. However, as per the provision of the Fiscal Responsibility and Budget Management Act 2003, no state can cross the threshold limit of 3 per cent of GSDP. Briefing the details, Modi said, "We have kept the fiscal deficit target well within 3 per cent limit at 2.81 per cent. This is the reflection of better and prudent fiscal management." Karnataka Budget 2019 Highlights: Rs 6,500 Cr Allocated for Waiver of Crop Loan of Farmers, Massive Allocation for Railways
Allocating the highest amount for the education sector, the Finance Minister said that Rs 34,798.69 crore has been allocated, while Rs 17,923 crore has been kept for the road construction with the Road Construction and Rural Works Departments getting an allocation of Rs 7,005.56 crore and Rs 10,917.97 crore, respectively. Also, the agriculture department has got Rs 2,958.77 crore in 2019-20, which is 1.48 per cent of Budget estimates. Besides, the energy department has been allocated Rs 88,94 crore.
For boosting the health sector in the state, Modi announced that an amount of Rs 9,622.76 crore has been allocated in the Budget. He also informed that work for construction of 11 new medical colleges – to be set up both by Centre and state – will begin in 2019-20 at Chapra, Purnea, Samastipur, Begusarai, Sitamarhi, Vaishali, Jhanjharpur, Siwan, Buxar, Bhojpur and Jamui. The government also allocated Rs 10,968.58 crore for Home department. Uttar Pradesh Budget 2019 Highlights: Rs 6,000 Crore Allocated for Swachh Bharat Mission, Rs 247.60 Crore for Maintenance of Cow -Shelters
With an intention to strengthen the socially backward sector – including Scheduled Caste, Scheduled Tribe, Backward Class, Extremely backward class, women and minorities – an amount of 1,76,747.64 crore has been allocated in the 2019-20 Budget, which is more is Rs 18,696.23 crore more than Rs 1,58,051.41 crore of budget estimate of 2018-19.
Modi informed that out of the estimated revenue receipt of Rs 1,76,747.64 crore of the state government in 2019-20, the state's own tax revenue is estimated at Rs 33,800.00 crore while the state's own non-tax revenue is estimated at Rs 4,806.47 crore.
(With inputs from agencies)