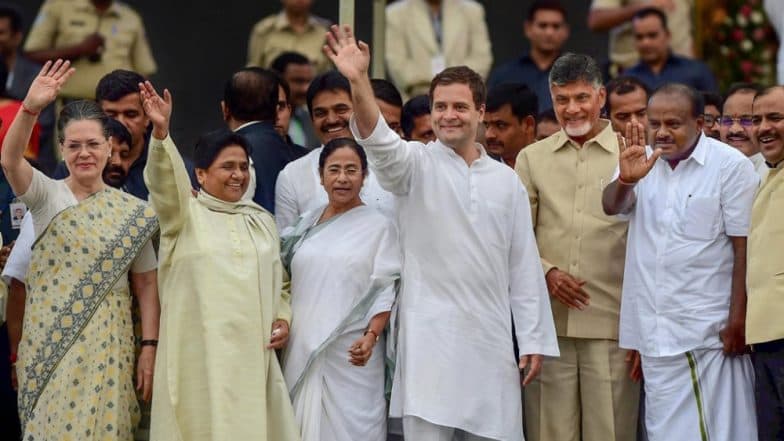 New Delhi, February 13: The whole nation is looking at the calendar and counting the days left for the upcoming Lok Sabha elections – barely eight weeks away – and on the other side, political parties are busy making their arrangements with allies to form a pre-poll alliance. In the recent round of events on Wednesday, the possibility of United Progressive Alliance – Part 3 – is taking shape in the national capital as party chiefs of Congress, TDP, NC and AAP meet each other on one side, and TMC and NCP presidents on the parallel side to discuss the future agenda.
After the meeting with NCP chief Sharad Pawar at his house in New Delhi, West Bengal Chief Minister Mamata Banerjee commented that they met to fix a common minimum programme and their alliance is intact. With this, the clouds over the alliance became translucent. Lok Sabha Elections 2019: Priyanka Gandhi Gets Charge of 41 Seats Including Amethi and Raebareli in UP, Jyotiraditya Scindia Gets 39. 
Stating more, Banerjee said to the media, after coming out NCP chief Sharad Pawar's house in New Delhi, "We'll work together at the national level. We'll have a common minimum agenda. We'll have a pre-poll alliance." Echoing similar tone, Pawar reacted, "We had a constructive meeting."
Also, setting the tone right on the parallel meeting with AP CM N Chandrababu Naidu, NC chief Farooq Abdullah and AAP convener Arvind Kejriwal, Congress president said to the media, "We agreed that the principal target for all of us is to wipe assault on Indian institutions being carried out by Narendra Modi, BJP and RSS. We agreed to start a conversation about a common minimum programme, and we have a commitment that we are all going to work together to defeat BJP." Lok Sabha Elections 2019: Congress Ties Up With Mahan Dal in UP, Priyanka Gandhi Vows to Fight With Full Force
Though Mamata Banerjee had said it earlier that she will contest solo in the Lok Sabha elections in West Bengal, her alliance with NCP doesn't match with the previous statement. It is to be known that NCP had clearly indicated that they would contest the Lok Sabha polls along with Congress as an alliance. On the parallel note, Arvind Kejriwal and Naidu had mentioned their intentions to walk solo in their states, but meeting with Rahul Gandhi to set up a common minimum programme is something contradictory.
As nothing is evident in the opposition front on who will lead the campaign against Narendra Modi-led BJP in the Lok Sabha elections, the opposition leaders meeting side-wise with a single point agenda is a sign that something concrete is on the cards and probably UPA-3 is taking shape. Lok Sabha Elections 2019: BJP, Shiv Sena Seal Seat Sharing Pact in Maharashtra, Says Report. 
Though the Bharatiya Janata Party had clearly stated that Narendra Modi would continue to be their Prime Ministerial candidate, the opposition still mulling over the prospects of sharing the seats in different regions. Also, a report stated that BJP made an official pact with their oldest ally – Shiv Sena – in Maharashtra for the polls.
Now, with the clock ticking and the political parties engaging in pre-poll tie-ups, the prospects of Lok Sabha elections for 543 seats getting interesting is gaining momentum, and more trading is round the corner.
(Views of the writer is personal)