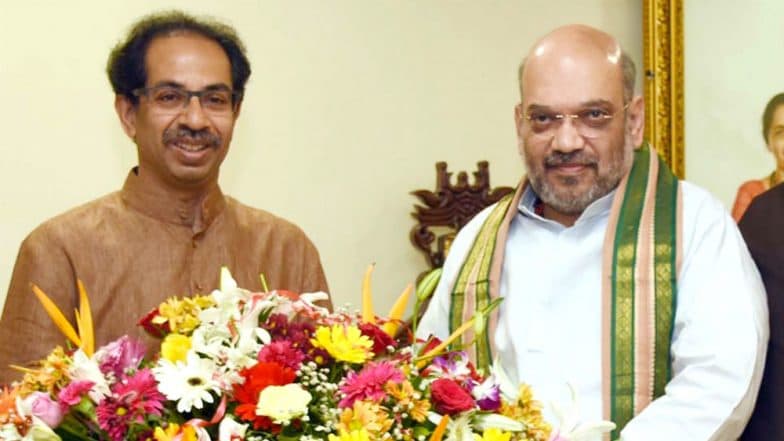 Mumbai, February 13: The seat sharing formula between the Bharatiya Janata Party (BJP) and Shiv Sena has been finalised for the 2019 Lok Sabha elections, according to media reports. The Bharatiya Janata Party (BJP) will fight on 25 seats and the Shiv Sena will  get 23 seats of Maharashtra's 48 Lok Sabha seats, said sources. Lok Sabha Elections 2019: Shiv Sena-BJP Alliance Intact, Will Contest In Maharashtra Together, Says BJP.
The reports of Shiv Sena deciding to fight the 2019 Lok Sabha Elections along with the BJP will give relief to the saffron party which had been kept guessing by the Shiv Sena. BJP-Ally Shiv Sena Slams Narendra Modi for 'Power Like Oxygen' Remarks.
The Shiv Sena had recently indicated that it would fight the 2019 Lok Sabha elections all on its own and when asked by reporters whether the Shiv Sena would maintain the alliance with the BJP, Shiv Sena had their answer ready: "Wait and watch."
However, Maharashtra chief minister Devendra Fadnavis always expressed confidence that the BJP-Shiv Sena alliance would work out and that there was nothing serious to worry.
In the 2014 Lok Sabha elections, the BJP and Shiv Sena contested as alliance partners and won 41 seats out of a total of 48 at stake in the state. BJP had won 22 seats, while the Shiv Sena 19. However, they contested the subsequent Assembly polls separately.