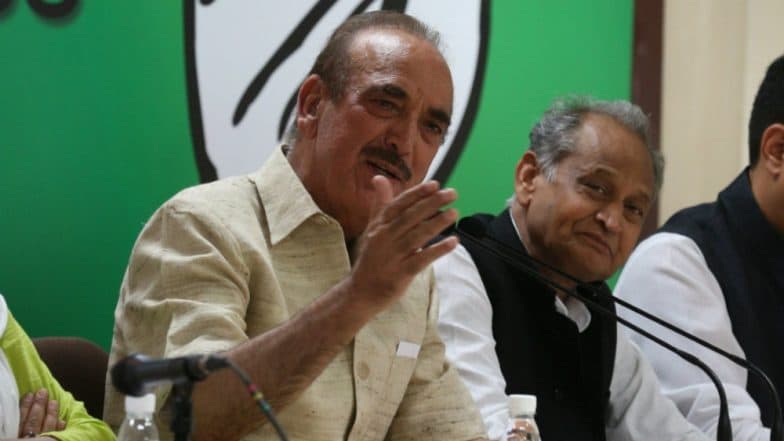 Srinagar, September 5: Despite a month passing after the abrogation of Article 370, Jammu & Kashmir continues to remain under a communication blockade, said senior Congress leader Ghulam Nabi Azad on Thursday. In a video message posted on Twitter, Azad accused the Narendra Modi-led government of holding the people of Kashmir as "captive". The manner in which J&K has been stripped of its special status is "unprecedented", and has not been seen in any democratic nation across the world, Azad alleged.
"For the first time not only in India's history, but also under any democratic set-up across the world, a state was stripped of its special status while its citizens were kept in the dark. They are not being allowed to communicate, not being allowed to express themselves and not being allowed to speak before the nation," Azad said. Pakistan Twitter Accounts Suspended Over Kashmir Content.
The former J&K chief minister described Modi's government handling of the issue even worse than the era of imperial British rule. "Even under the Britishers we did not see such a lockdown," he said.
Watch Ghulam Nabi Azad Speaking on 'Kashmir Lockdown'
जम्मू&कश्मीर में एक महीने से चले आ रहे "शटडाउन" पर नेता प्रतिपक्ष, राज्यसभा श्री गुलाम नबी आजाद का बयान।#1MonthOfJnKSuffering pic.twitter.com/uOcMSymODa

— Congress (@INCIndia) September 5, 2019
Exactly a month ago, on August 5, the Centre issued an executive order revoking the special status of J&K under Article 370. The decision has paved way for citizens of other Indian states to buy land and property in the frontier state, apart from applying for government jobs and scholarships.
The move, described Home Minister Amit Shah, would lead to prosperity in the Valley and provide jobs to scores among the youth. However, the Centre has drawn flak as it has imposed a communication blockade since Article 370 was withdrawn, and has taken into arrest most of the mainstream and separatist leaders. Among those taken into custody, include former chief ministers Omar Abdullah and Mehbooba Mufti.