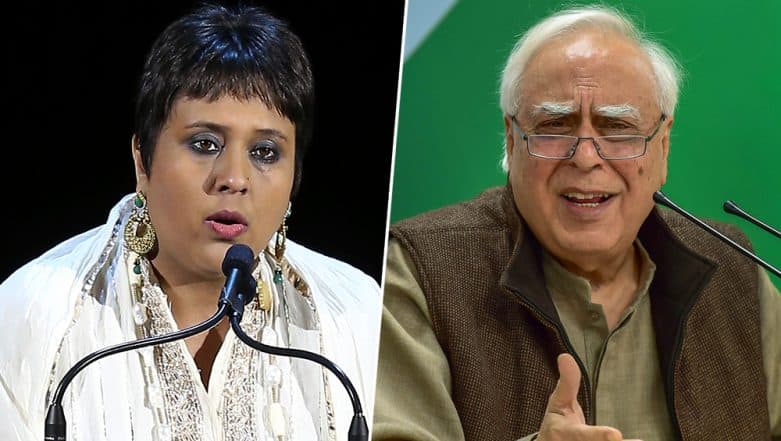 New Delhi, July 16: Nearly 200 employees of Kapil Sibal-run HTN Tiranga TV have not been paid for last six month and could be sacked without payout, alleged journalist Barkha Dutt who is one of the senior channel executives. In a series of tweets, Barkha Dutt also alleged that Kapil Sibal's wife Promila Sibal misbehaved with female employees after which the National Commission for Women (NCW) took cognisance of the matter.
"Received complaint from @BDUTT against Promila Saibal of  @NewsHtn alleging her for abusing female staff members including Barkha. Taking cognizance on it (sic)," the NCW tweeted on Tuesday. Dutt replied: "Thank you very much. An important issue for all women in the workforce." The matter of pending salary of HTN Tiranga TV's employees came to fore when Dutt opened a scathing attack against Sibal and his wife on Twitter. Barkha Dutt Online Harassment Case: Four Arrested For Sending Dick Pic to TV Journalist.
NCW's tweet on Barkha Dutt's allegation:
Thank you very much. An important issue for all women in the workforce

— barkha dutt (@BDUTT) July 16, 2019
In a tweetstorm, Dutt accused Sibal and his wife of not paying 200 employees at their venture, including threatening her with defamation for supporting the staff. An appalling situation in @NewsHtn promoted by @KapilSibal
& his wife, where more than 200 employees have had equipment confiscated and face sackings without even a 6 month pay out. Man who acts holier than though in public has treated journalists in a hideous way (sic)," she tweeted yesterday.
"Wife, who ran a meat factory, says loudly in the workplace, "I shut down factory withut giving a paisa to labour, who are these journalists to ask for 6 months salary." Her labour should have been paid better, but her disparaing remarks of journalists is sickening (sic)," Dutt said in another tweet. She further accused Sibal and his wife of calling female staffers "bitch".
"Worst of all, @KapilSibal & wife have referred to female staffers as "Kutiya" or Bitch. This is a fit case for NCW @sharmarekha & we will place signed affidavits to prove our case," Dutt said. Kapil Sibal and Promila, however, denied all charges levelled against them by Dutt.
Barkha Dutt's tweets:
Most people here, gave up other offers or left jobs on an assurance from @KapilSibal of a professionally run newsroom and a minimum tenure of 2 years. Neither husband nor wife have evenshowed up to talk to staff . But all live programming has been cancelled for 48 hrs..

— barkha dutt (@BDUTT) July 15, 2019
What is most shameful is that @KapilSibal earns crores every day and wont pay 200 employees the industry norm of 6 months or at least 3 months pay out, ruining the lives of 200 plus people.

— barkha dutt (@BDUTT) July 15, 2019
For fighting for rights of staff, I have been threatened with defamation and ordered to "withdraw my emails" comparing @KapilSibal to Mallya. I have refused. I support the staff of @NewsHtn and will help them fight this legally, with a criminal case and complain

— barkha dutt (@BDUTT) July 15, 2019
Lastly, it would be easy for me to be silent. @KapilSibal owes a lot of us senior staff salary for a year and has refused to pay it. We will fight that legally. But what is more critical is 200 employees whose lives depend on this. Hope @IndEditorsGuild protects this staff

— barkha dutt (@BDUTT) July 15, 2019
I would urge friends in the media fraternity and everyone with a voice to tweet @KapilSibal till he pays employees what is due to them instead of wriggling out with one month pay out and intimidating staff with threats of defamation & other Vakeel type tricks

— barkha dutt (@BDUTT) July 15, 2019
Speaking to a portal, Kapil Sibal said all commitments made by the company were honoured. "We have paid salaries to all the employees for the month of June. The employees have been offered a month's salary as compensation apart from their remaining wages for the current month," he said. Promila said the employees were informed about layoff policy through their contract letter before they joined.
"Everything is in writing in the contract letters of the employees. In fact, the contracts even say that probationers can be removed with just three-days' notice but even they are being offered a month's salary to leave," she was quoted as saying. Reacting to the allegation of misbehaviour with female staffers, Promila called the charge frivolous. "Both Kapil and I have not met her for the last three to four months and there was no mention of such an episode in her earlier mails," she said.