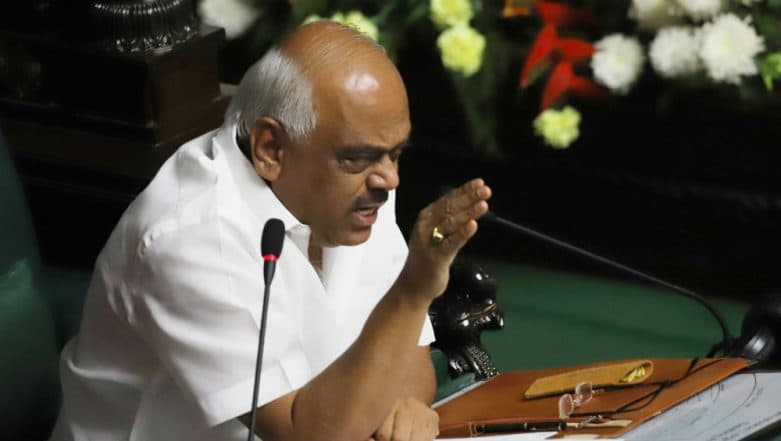 Bengaluru, March 22: Reacting to senior Congress leader KH Muniyappa's comments over their relationship, Karnataka assembly speaker KR Ramesh Kumar said: "I don't sleep with men". While inaugurating Kanaka Community Hall in Srinivaspur Taluk on February 15, Muniyappa had said, "Ramesh Kumar and I are like husband and wife and we don't have any issue."
Muniyappa had made the statement when asked about reported differences between Kumar and him over ticket distribution for the upcoming Lok Sabha elections. Reacting to Muniyappa's month-old statement, Kumar on Thursday said: "I don't sleep with men. I don't sleep with anyone. I have a wife and we were married for decades. He (Muniyappa) may be interested to sleep with me, but I am not. I don't have an extramarital affair with whomsoever." Karnataka Congress Leader Belur Gopalakrishna 'Calls For PM Narendra Modi's Assassination', Alleges BJP.
According to reports, Kumar was against Muniyappa getting a ticket to contest the Lok Sabha elections from Kolar. He had openly criticised Muniyappa several times. Besides the speaker, all the five MLAs of the Congress from Kolar Lok Sabha constituency are reportedly against Muniyappa getting a ticket. The legislators have registered their opposition to the party leadership. Karnataka Congress MLA JN Ganesh, Who Assaulted Party Legislator, Arrested.
Although growing discontent among party leaders has left Muniyappa worried, a party worker told News18: "The party also thinks in a similar way, but they have no choice but Muniyappa."