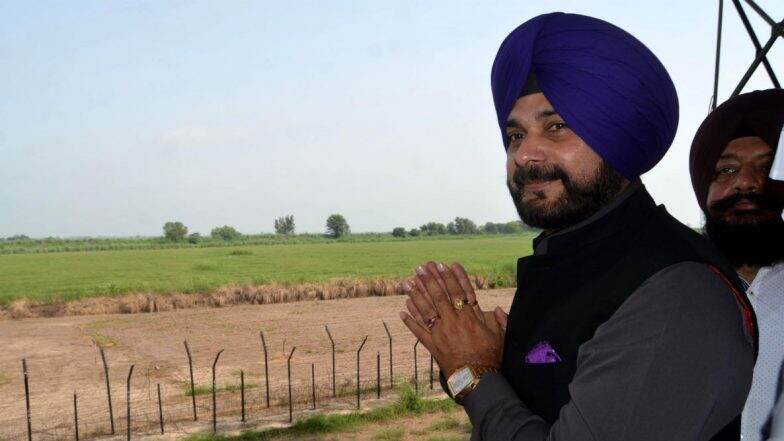 New Delhi, November 7: Hours after he sent a scathing letter to the Ministry of External Affairs (MEA), Congress leader Navjot Singh Sidhu was granted political clearance to visit Pakistan, reports said on Thursday. Navjot Singh Sidhu has been invited by the Imran Khan government in Pakistan to attend the inauguration of the Kartarpur Corridor on November 9. The cricketer-turned-politician sought political clearance from the MEA. Kartarpur Corridor: Two Days Before Inaugural Jatha, Pakistan Yet to Confirm List of Dignitaries Sent by India, Says MEA.
Earlier today, Sidhu wrote his third letter to the MEA seeking political clearance to visit Pakistan for the Kartarpur Corridor inauguration. In his letter, he said that if the government denies permission, he would not go to Pakistan. "But if you (the government) don't respond to my third letter, then I will proceed to Pakistan as millions of Sikh devotees go on eligible visa," Sidhu asserted. All Indian guests will have to take political clearance from the government. Kartarpur Corridor: Pakistan Army Contradicts PM Imran Khan, Says Indian Sikh Pilgrims 'Will Require Passport' to Visit Shrine.
"The delay and no response is a hindrance to my future course of action. I categorically state that if the government has any inhibitions and says no, then as a law-abiding citizen, I will not go," the Congress leader stated. On the directives of Prime Minister Imran Khan, ruling Pakistan Tehreek-i-Insaaf senator Faisal Javed had contacted Sidhu and extended the invitation to him earlier this week.
Raveesh Kumar, spokesperson of MEA, at a weekly briefing, downplayed the matter involving Sidhu by saying that it cannot afford to focus on "individual travellers". "He can do whatever he wants. I have already said that this is a big occasion, and we cannot focus on an individual traveller's plans to go to Kartarpur. I would not like to comment on that in this forum," Kumar said.