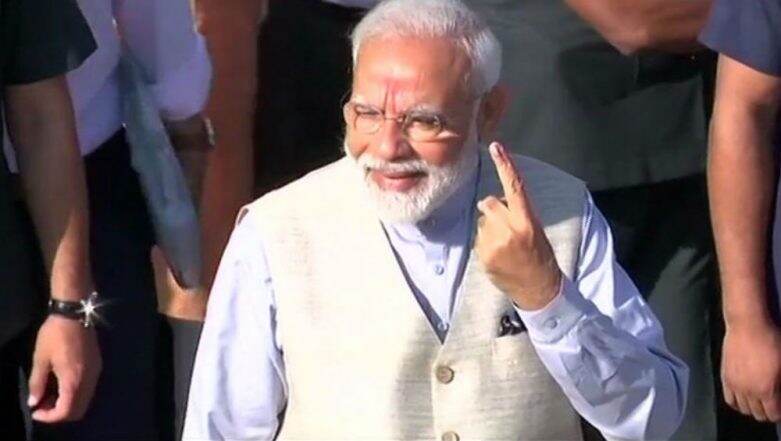 Ahmedabad, April 23: Prime Minister Narendra Modi on Tuesday cast his vote in Gujarat where polling is held in all 26 Lok Sabha seats in the third phase of general elections. PM Modi exercised his democratic right at Nishan High School in Ahmedabad's Sabarmati. Before casting his vote, PM Modi met his mother Heeraben Modi at her residence in Gandhinagar and took her blessings.
"Today third phase of polling is underway, I am fortunate that I also got the opportunity to fulfil my duty in my home state of Gujarat. Like you feel pure after a holy dip in Kumbh, one feels pure after casting vote in this festival of democracy," PM Modi said after casting his vote. He made a special appeal to first-time voters urging them to cast their vote. He made a similar appeal on Twitter earlier today. Lok Sabha Elections 2019 Phase 3 Polling: Catch Live Updates Here.
"Terrorism's power is IED (improvised explosive device) but people's power is voter ID," PM Modi added. Voting is held in all 26 constituencies in Gujarat, all 20 seats in Kerala, 14 each in Maharashtra and Karnataka, 10 in Uttar Pradesh, seven in Chhattisgarh, six in Odisha, five each in Bihar and West Bengal, four in Assam, two in Goa, one each in Jammu and Kashmir, Dadra and Nagar Haveli, Daman and Diu and Tripura in the third phase.
Earlier today, PM Modi urged people to vote in record numbers in the third phase of the Lok Sabha polls. "Urging all those voting in today's Third Phase of the 2019 Lok Sabha elections to do so in record numbers. Your vote is precious and will shape the direction our nation takes in the years to come," he tweeted.