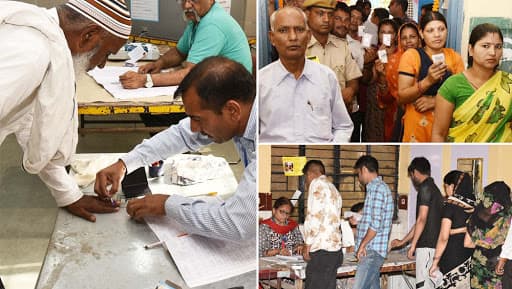 New Delhi, May 12: The polling for Phase 6 of Lok Sabha Elections 2019 concluded in 59 constituencies on Sunday. A total of 10.18 crore people decided the fate of 979 candidates by casting their votes in 1,13,167 polling stations, spread across seven states. The final voter turnout in the sixth phase has been recorded as 62.86% percent.
According to the details, provided by the Election Commission in their press conference, polling for 483 Lok Sabha seats - out of 543 - has been concluded on Sunday. Adding, that the remaining constituencies would go to polls in the seventh and the last phase of Lok Sabha Elections on May 19. Lok Sabha Elections 2019 Phase 6 Voting Live News Updates
The voter turnout for Bihar (8) has been recorded as 59.29 percent, while for Haryana (10) it was 66.27 percent. In Madhya Pradesh (8), the voter turnout was 63.63 percent, while for Uttar Pradesh (14) it was 54.29 per cent. In West Bengal (8) the voter turnout has been recorded as 80.16 per cent and in Jharkhand (4), 64.50 per cent polling was registered. In Delhi (7), the voter turnout was 58.45 per cent.
Take a look at the interim voter turnout today in #Phase6 of #LokSabhaElections2019 #GotInked #IndiaElections2019

(Updated till 8:30 PM) pic.twitter.com/unQGgMEAFm

— Election Commission #DeshKaMahatyohar (@ECISVEEP) May 12, 2019
Barring news of EVM glitches at some polling booths in Delhi, Bihar and West Bengal, the machines were working well in other states. However, BJP candidate Bharati Ghosh's convoy was pelted with stones and bricks by alleged TMC workers in Ghatal in West Bengal. Even, EC ordered an FIR against the former police officer for violating poll code and entering polling booth with security personnel.  EC Orders FIR Against BJP's Ghatal Candidate Bharati Ghosh for Poll Violation During Phase 6 of Lok Sabha Elections 2019
In another development, BJP candidate from West Champaran Parliamentary constituency - Sanjay Jaiswal - was allegedly attacked with sticks in Narkatiaganj in Bihar. The incident took place outside the polling booth no. 162 and 163. Though he escaped unhurt, he alleged that the administration didn't come for help. Meanwhile, EC had assured that it will look into the matter. Lok Sabha Elections 2019: BJP Candidate Allegedly Attacked With Sticks by People in Bihar's Champaran, EC Says 'Will Take a Report'
In a shocking development, Congress candidate and party's senior leader Digvijay Singh missed casting his vote in the festival of democracy. Speaking to the reporters he expressed his regret of not being able to cast his vote. Digvijay Singh Misses Out of Polling in Phase 6 of Lok Sabha Elections 2019, Says 'I Regret'. 
Now with the last phase of polling in 60 constituencies left, the Election Commission is making all arrangements to end the festival of democracy on a happy note. In the last phase, big politicians like Prime Narendra Modi, actress Mimi Chakraborty, Rajnath Singh and others are in fray.