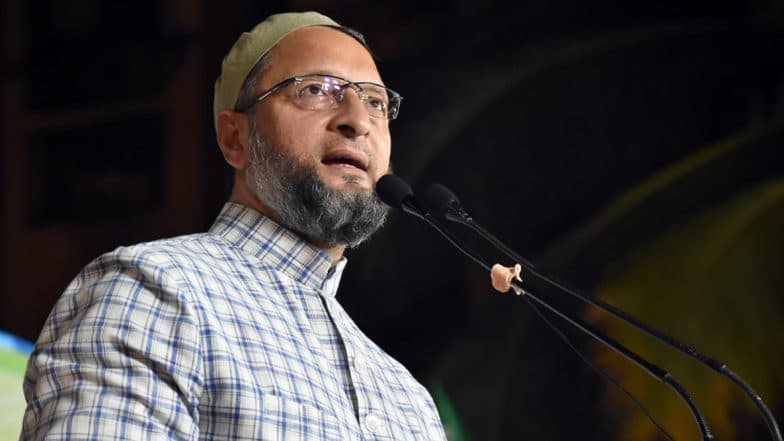 Mumbai, October 11: With the Assembly Elections for Maharashtra just days away, All India Majlis-e-Ittehadul Muslimeen (AIMIM) has pulled out its candidate for Mumbra-Kalwa assembly and had announced that it would support the Aam Aadmi Party candidate Dr Altamash Faizi. The Asaduddin Owaisi-led party has even instructed the party workers to work for the victory of AAP candidate. Earlier, AIMIM had nominated Barkatulla Shaikh aka Gunjanseth against two-time winning NCP candidate Jitendra Awhad.
Announcing the decision of the party, a formal letter by Lok Sabha parliamentarian from Aurangabad Syed Imtiaz Jaleel was released on Friday. In that letter to the AAP candidate Dr Altamesh Faizi, the AIMIM MP wrote, "AIMIM is pleased to offer you the support of our party in the Mumbra-Kalwa Assembly Constituency Elections 2019." RSS Worker Murder Case: Asaduddin Owaisi Seeks Justice For Victims, Says 'I Oppose RSS Ideology, But it Can Never be Ground For Barbaric Violence'.
Adding more, he wrote, "In the wake of our official candidate cheating the party and the people of Mumbra KLalwa by withdrawing his candidature at the last minute, we feel the people of the constituency need a person with good reputation and zest to do something for the society. Having gone through your profile and your letter seeking the support of AIMIM to your candidature the party president Barrister Asaduddin Owaisi has agreed to offer the party's support to you."
Here's Syed Imtiaz Jaleel's tweet:
In Mumbra Kalwa,

AIMIM to support Aam Aadmi Party candidate Dr Altamash Faizi. All party workers are instructed to work for his victory.@asadowaisi pic.twitter.com/298vmkBCvM

— imtiaz jaleel (@imtiaz_jaleel) October 11, 2019
The voting for Assembly elections in Maharashtra for 288 seats will take place on October 21, while the counting of votes will take place on October 24.