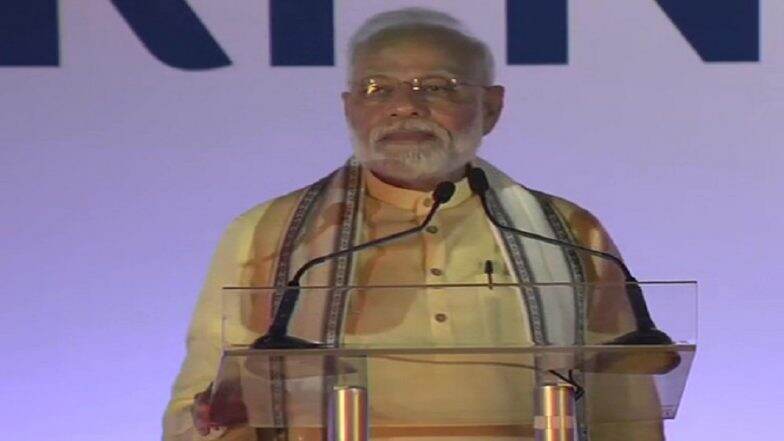 Manama, August 24: Prime Minister Narendra Modi, during his address to the Indian diaspora in Bahrain, turned emotional as he reflected upon the passing away of two of his party colleagues within a short span. Modi told the Indian community that the death of BJP veterans Sushma Swaraj and Arun Jaitley has "deeply pained" him.
Describing Jaitley as his "friend", Modi said he has been trying to control his sorrow throughout the day as he is bound by official duty. The Prime Minister told the Indian diaspora that the passing away of Jaitley is an irreparable loss for the nation. Arun Jaitley's Family Insists PM Narendra Modi Must Not Cut Short His Foreign Visit: Report
"I can't imagine that I'm so far among you when a dear friend of mine has passed away. I'm bound by my responsibilities. The passing away of Jaitley has deeply pained me. Few days ago, it was our sister, the country's former External Affairs Minister Sushma Swaraj, and now my friend Arun is gone. He has left this world," said Modi, who was visibly emotional.
Watch Video of Modi Remembering Sushma Swaraj and Arun Jaitley:
#WATCH PM Modi while addressing the Indian community in Bahrain, reacts on the demise of #ArunJaitley: I can't imagine that I am so far here while my friend has gone away. Some days ago, we lost our former External Affairs Minister Behen Sushma Ji. Today my friend Arun went away pic.twitter.com/NcMZ5dU069

— ANI (@ANI) August 24, 2019
Watch: Jaitley No More, Dies After Battling Prolonged Illness
Jaitley, 66, passed away earlier today at the All India Institute of Medical Sciences (AIIMS) where he was rushed to on August 9 after complaining of breathlessness and anxiety.
The former Finance Minister had been battling prolonged health issues. In 2015, he had underwent a bariatric surgery to cut down on the weight he had gained due to diabetes. In 2018, he went on a sabbatical leave from the Narendra Modi government following his treatment for a kidney-related ailment.
After Modi returned to power, he requested the Prime Minister to not to include him in the Cabinet citing health issues.
Swaraj, 67, died on August 6 after suffering a cardiac arrest. Similar to Jaitley, she had also sought her exclusion from the Cabinet on health ground after the BJP returned to power in the 2019 Lok Sabha elections.