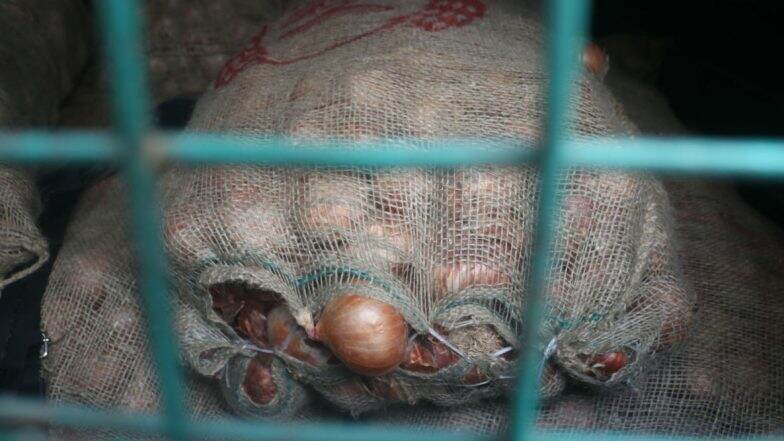 New Delhi, October 8: To meet the shortfall in domestic supply of onions and control rising prices, the central government has decided to import bulbs. State-owned MMTC Ltd company has issued tender seeking bids to import 2000 tonnes of onions by October end with a price cap of $352 per tonne. Due to shortage, especially at Lasalgaon Agricultural Produced Market Committee (AMPC), onion was sold at Rs 80 per kilogram in some parts of the country.
There had been a steady rise in onion prices at AMPC, the country's largest wholesale market, which led to an increase in onion prices across the country. The average wholesale onion price at Lasalgaon APMC jumped to Rs 1,000 per quintal last month, touching a four-year high. The previous highest average wholesale price was recorded in September 2015 when it went up to Rs 4300 per quintal. Congress Hits Out at Centre Over High Retail Prices of Onion.
The increase in average wholesale rates was the result of a shortage of onions in the south Indian states where they are grown. Therefore, demand was high in south Indian states, resulting in a shortage of bulbs in north India. Besides, the Kharif crop hasn't reached the market yet. To control shooting prices, the government on September 29 had banned the export of onions. The Centre also imposed stock limits on onion traders.
The stock limit of 100 quintals on retail traders and 500 quintals on wholesale traders has been imposed across the country, a Commerce Ministry notification said. Previously too, the Centre had authorised state governments to impose stock limits. This time, the Centre has decided to impose stock limits directly on the states across India, it added. Onion prices have skyrocketed off late and are hovering around Rs 60-80 in the retail market.