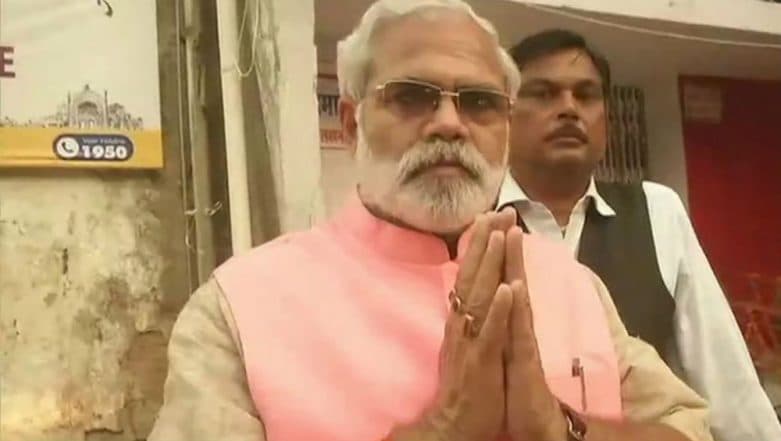 Lucknow, April 12: It's summer time in India and the scorching heat as well as political temperature is on the rise this election season. Party leaders and political stalwarts are going the extra mile to ensure that they end up on the winning side on May 23, the day results for 2019 Lok Sabha Elections are declared. However, a lookalike of Prime Minister Narendra Modi became a center of attraction after he filed nomination as an independent candidate from Lucknow seat. PM Narendra Modi Attacks HD Kumaraswamy, Asks 'Whether Will He Retire From Politics If BJP Forms Govt at Centre in 2019!'
Abhinandan Pathak, the lookalike, not only filed his nomination from Lucknow, but also spoke to reporters. Pathak, clad in what has now come to be known as Modi kurta, and sporting glasses like PM Modi said that he will also contest from Varanasi Lok Sabha seat, the constituency represented by Prime Minister Narendra Modi.
See Pictures in the Tweet Below:
Abhinandan Pathak, a PM Modi lookalike, filed his nomination as Independent candidate from Lucknow today. Says, "I'll also file nomination from Varanasi on 26. I am not a dummy candidate. I am not against anyone but 'jumla'. After winning, I'll support Rahul ji's PM candidature. pic.twitter.com/SUs0UgGApW

— ANI UP (@ANINewsUP) April 12, 2019
Pathak said that he will file nomination from Varanasi on April 26. Speaking to ANI, Pathak added, "I am not a dummy candidate. I am not against anyone but "jumla." He also added that after winning he will support Rahul Gandhi. Voting for the 2019 Lok Sabha Elections on Lucknow and Varanasi Lok Sabha seats will take place on May 6 and May 19 respectively.