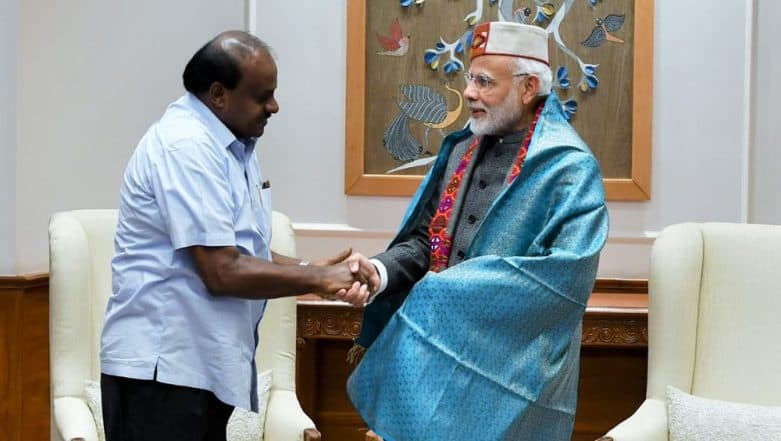 Koppal, April 12: With the phase of Lok Sabha Elections are over and phase 2 polls for 97 seats in 13 states are going to take place on April 18, Prime Minister Narendra Modi launched his scathing attacking Karnataka Chief Minister HD Kumaraswamy on Friday. PM Modi Asked whether Gowda would fulfil his promise and retire from politics!
Addressing an electoral rally in Koppal, PM Modi said, "HD Deve Gowda ji ke bete ne kaha ki kendra mein agar phir sarkar ban gai toh vo rajneeti se sanyaas lelenge. 2014 ke chunav mein swayam Deve Gowda ji ne kaha tha agar Modi ji PM banenge toh main sanyaas le lunga. Unhone liya kya? Beta sanyas lega kya? (HD Kumaraswamy said that if BJP government at Centre again, then he would retire from politics. In 2014 Deve Gowda said the same. Did he retire? Would HD Kumaraswamy retire?"  Karnataka CM HD Kumaraswamy Says Some Want to 'Finish' Me Off Politically. 
Modi also slammed the Karnataka CM for allegedly insulting the military. He said, "Yahan ke CM ne kaha hai ki jinko do time khana nahi milta hai vo sena mein jaata hai. Kya ye hamare veer sainiko ka apmaan hai ki nahi hai? Kya isse vote maangoge kya? Arey doob maro desh ki sena ka apmaan karne walon. (The CM said people go to the army who don't get enough food for two times a day. Isn't this an insult to barve soldiers? Will you ask votes on this basis? One should die for insulting the brave soldiers)."
Also, PM attacked the Janata Dal (Secular)-Congress alliance and alleged that both the parties are indulged in promoting dynasty politics in the country. He accused their alliance of working to earn Commission.