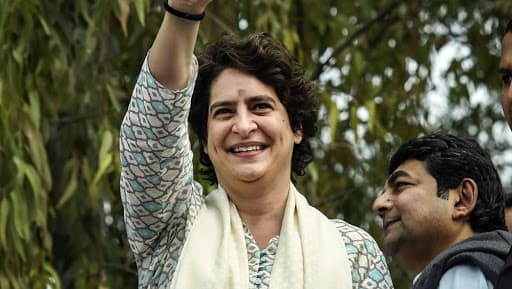 Lucknow, May 11: Politicians are busy in their electoral campaign for the ongoing Lok Sabha Elections 2019, but reaching out to help those in need is what people expect from them. Setting an example for other political leaders, Congress general secretary for Uttar Pradesh (East) Priyanka Gandhi Vadra on Friday helped airlift a two and a half-year-old girl suffering from a tumour to AIIMS Delhi.
According to the information, the Congress general secretary was campaigning in Uttar Pradesh and was informed by party leader Rajeev Shukla in Prayagraj that a minor girl needs medical attention as she is suffering from a tumour. She was also informed that the condition of the child is serious and might not survive. Smriti Irani Targets Rahul Gandhi, Priyanka, Says 'They Leave Battlefield When It Is Time To Draw Swords' 
Acting quick, Priyanka Gandhi sent the girl and her family to All India Institute of Medical Sciences (AIIMS) in Delhi via a private plane. Sources said she also spoke with the AIIMS administration to take care of the child and start the medication as soon she reaches the hospital.
It is to be known that the minor was earlier admitted in Kamla Nehru Hospital in Uttar Pradesh's Prayagraj. In the flight, Congress leader Mohammed Azharuddin also was seen accompanying the ailing child and her family.