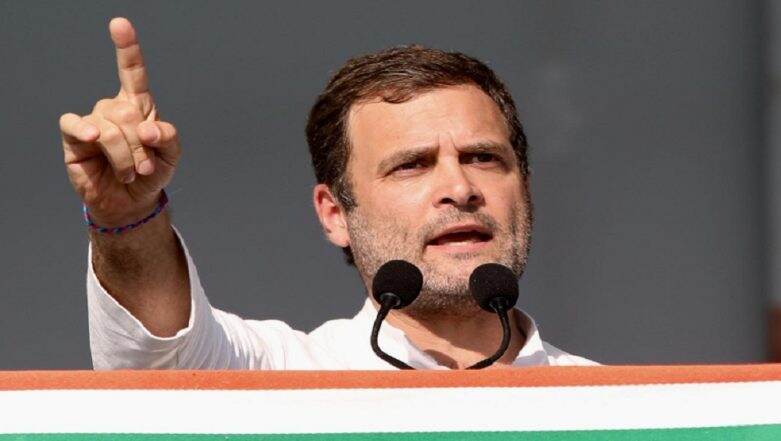 Ahmedabad, March 12: The Congress Working Committee (CWC), which met in the Gujarat capital on Tuesday, resolved to "defeat the saffron forces" in the upcoming Lok Sabha elections 2019. Party president Rahul Gandhi, who addressed the cadres after the CWC members held talks, said Prime Minister Narendra Modi is directly responsible for the growing hatred and intolerance in the nation.
The ruling dispensation, Rahul said, is incorporating the ideology of "fascism, hatred, anger and divisiveness". The divisive mindset flows right from the top, being directed by the "BJP's ideological parent - the Rashtriya Swayamsevak Sangh (RSS)", the Congress chief alleged. Watch: Union Minister Anant Hegde Calls Rahul Gandhi a 'Hybrid Muslim' Again
The Gandhi scion claimed that his party would leave no stone unturned to restore the India prior to "this fascist" onslaught. "No sacrifice is too great in this endeavour; no effort too little; this battle will be won," he said.
Rahul also targeted PM Modi on the issue of unemployment, saying that the Prime Minister is responsible for the loss of "crores of jobs" in the nation. With a "smile", the Prime Minister implemented demonetisation and inflicted a lethal injury to the economy, he said.
Here's What Rahul Said on the Alleged Face-off Between Government and Judiciary:
Congress President Rahul Gandhi in Gandhinagar, Gujarat: First time in history, 4 Supreme Court judges went to press & said they are not allowed to work. Generally, people go to SC for justice but in today's Hindustan, SC judges are going to public & asking for justice. pic.twitter.com/8sLPUFQJmS

— ANI (@ANI) March 12, 2019
Before Rahul, his sister and Congress' general secretary Priyanka Gandhi Vadra addressed the party cadres in Ahmedabad. In her first rally after joining politics, she accused the BJP government of spreading an atmosphere of hate and prejudice.
"Our institutions are being destroyed. Wherever you see, hatred is being spread. Nothing matters more to us that you and I protect this nation, work for it and move forward together," she said.